Arbor Arts Center - Venue 2016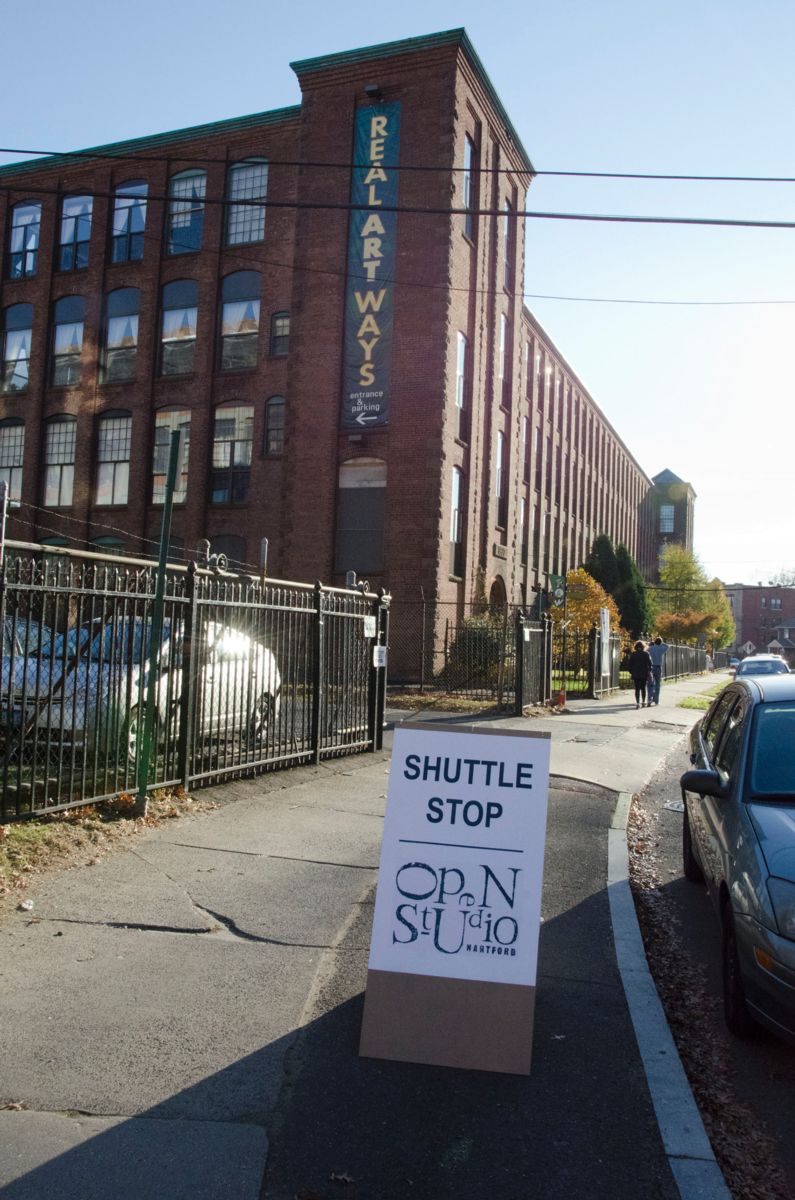 56 Arbor Street / Real Artways (right next to 30 Arbor Street)
Arbor Street and Arbor Arts Center is what Open Studio Hartford is all about! Artists open their amazing working studios that are private all year for the public to come see their artistic process. Works in progress and finished pieces. Come see over 30 artists original work on all 4 floors.
Park on either side of the buiding and use SIDE or FRONT entrances.
This past OSH 2016 featured and outstanding array of OPEN STUDIOS at Arbor Arts Center & Visiting Artists:
1st Floor
Andrew Jeruss: (Collage and Mixed Media) Whimsical collages for the young and young at heart
Art By Wright: (Acrylic) Original Paintings, Sculptures, Facepainting and Whipped Body Butter
DOO-RITE ROBOTICS: (3D SCULPTURE) Giving new life to discarded objects and create 24
ECO: WASTE NOT: (Knits, photography, Acrylic) Mixed artwork, knits, photography, acrylic
Nicki's Necklaces: (Beaded Jewelry) Handmade statement jewelry and beaded jingle jangles for the bohemian spirit
The Jumping Frog Used Bookstore: (Used & Rare Books) Used bookstore focusing on Art, Photography, CT History, Mark Twain & more
Veteran's Therapy Through Art: (Photography, Acrylics and Mixed Media) Providing disabled veterans with an alternative therapy using art in various forms
2nd Floor
Art Connection Studio: (Painting, mixed media, fiber arts, jewelry) A nonprofit studio and gallery providing vocational programs in art
C. Dianne Zweig- Contemporary Mixed Media Artist: (Contemporary Mixed Media) Contemporary Mixed Media artwork influenced by designs of 1950s textiles
Defining Studios: (Photo/Video/Lighting) A group of artists who provide photo, video & lighting in the City of Hartford
Ginny August Pottery: (Clay) A mix of wheel and handbuilt functional pottery
James D'Amore Art: (Oil paint and digital work) Influenced by the deep connections found within people and nature.
Mina Karimian: (Acrylic and watercolor) Bright colored illustrations of hummingbirds, frogs and chameleons
Richard Hawley: (Photography, Painting, Film, Furniture and Design) Multi-media art that is provocative, edgy, beautiful and creates new style
Suzanne Jolissaint, Art Therapy: (Oil & acrylic, mixed media, clay) Oil and acrylic, mixed media and clay
3rd Floor
Barbara Hocker: (Mixed Media) Works on/of paper filled with the beauty, simplicity & quietude of nature
Christine Chaise Greenwood: (Acrylics and mixed media) I paint to be here, now, and to narrate a story that words can't express
Debra Conant: (Tempra) Tempra
Estelle Laschever Fine Art: (Fine Art Prints and Mixed Media Paintings) Conveying a sense of musical sound by overlapping shapes, color, line and movement
Greenwood Glass Blowing Studio/Gallery/School: (Hand blown glass, metal , wood) Custom design and fabrication in hand blown glass, metal & wood
Kathi Packer Studio: (Oil painting, drawing) Exploring figuration and abstraction based on my African experiences
Lanny Nagler Photography: (Photography) A variety of wallscapes and discovered art
Tainted Inc.: (Makeup) A Beauty Collective and Creative Studio
White Rabbit Studio: (Collage) Whimsical collage using painted and printed paper
4th Floor
Aaron Burleson: (Photography) Photographic documents of my family, friends and environment
Ahimsa Health & Harmony: (Vegan health & wellness) A wellness center for animals, people, and the planet
Ashrita: (Acrylics and oils) Adding color to emotions in acrylics and oils
JFRoche Photography: (Digital Photography) Life's Simple Beauty"...It's all around us."
Joy Floyd: (Collage - Found materials) Framed collage focusing on found papers and other scraps
Kate Sanderson's Art: (Colored Pencil, Charcoal, and Acrylic) Combining imagination and reality in color pencil, charcoal & acrylic
Katherine Tolve- Progressive Patterns: (Mixed media) Highly decorative and pattern based paintings, drawings and collaged artworks
Robin Rittinger LPC-ATR: (Multi-media) Art Therapist and group leader for personal growth
tiny dino: (Mixed) Sewn home decor, ceramics and origami
VASU Studio/Field To Face Organic Beauty: (Botanical Beauty and Yoga) The art of high vibe living through yoga, beauty rituals and soulful workshops
BACK ENTRANCE:
Real Art Ways: (Interdisciplinary) Producing and presenting innovative, diverse and ambitious art works