Arbor Arts Center - Venue 2017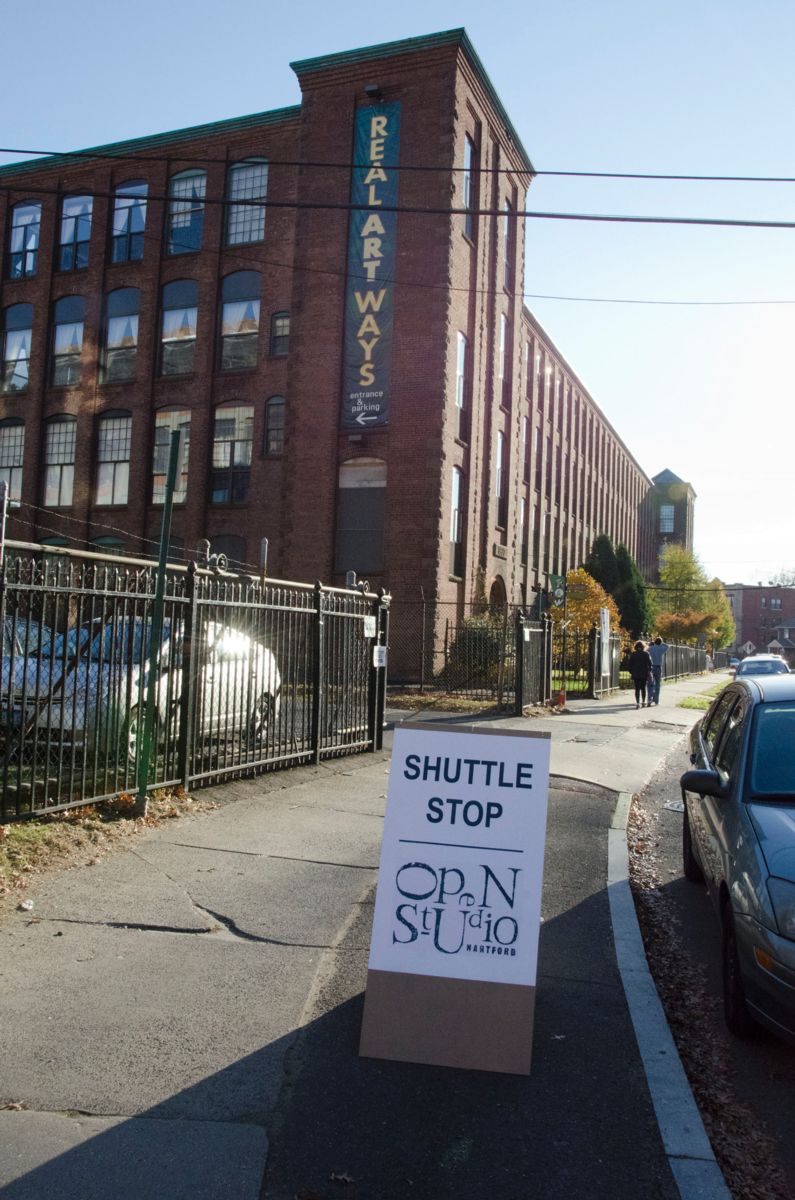 56 Arbor Street / Real Artways (right next to 30 Arbor Street)
Arbor Street and Arbor Arts Center is what Open Studio Hartford is all about! Artists open their amazing working studios that are private all year for the public to come see their artistic process. Works in progress and finished pieces. Come see over 30 artists original work on all 4 floors.
Park on either side of the buiding and use SIDE or FRONT entrances.
An outstanding array of OPEN STUDIOS at Arbor Arts Center & Visiting Artists:
OPEN STUDIOS on all FOUR floors! 2017 Artists (Stay tuned for the new 2018 roster)
Art Connection Studio, Nonprofit studio & gallery providing vocational programs in art
Barbara Hocker, Works on/of paper filled with the beauty, simplicity & quietude of nature
Christine Chaise-Greenwood fine art and sculptures, Acrylics and mixed media paintings and sculptures that narrate a story words can't express
Estelle Laschever Fine Art- Prints, Multimedia Oil, Music is at the core of my work. Color, rhythm, and texture evoke images of music
iTB Photography Studio, Stunning film and digital headshots, architectural photography, and Boudoir
Kathi Packer Studio, Exploring figuration and abstraction based on my African experiences
Lanny Nagler Photography, Color and B&W images with striking design and texture
Martha Dawkins, Very diversified in many mediums
MOUNT HOOK, Mixed media focused around delicate abstract patterns and female forms.
Real Art Ways, Real Art Ways is a multidisciplinary arts organization supporting artists (back entrance)
Richard Hawley, Film Maker, Fashion and Fine Arts Photographer & Abstract Impressionist Painter
Sandy Welch Art, Paintings that POP with provocative color and flirtatious style!
The Jumping Frog Used Bookstore, Used books focusing on art, photography, CT History, Mark Twain & more.
Vasu Studio: Yoga + Healing Arts, Yoga Studio and Healing Arts in Parkville
White Rabbit Studio/Vibeke, Whimsical paper collage
VISITING ARTISTS on all FOUR floors!
Ashton Lally, Bold acrylic and oil paintings with texture that creates movement and emotion
Brian Colbath, Oil paintings of landscapes and seascapes done in a realistic style
Cetacean Society International, RAILS TO WHALES Photos by K Roberts and Whales by D Sineti
Doo-Rite Robot Sculptures, Giving new life to discarded or forgotten objects creating a robot sculpture
Jacqueline Boxer, Needle felted animals & small handmade clay pieces
JJ the Artist, Realistic style painter, with special skills in portrait painting
Joy Floyd, Mixed media collage - paper, fabric and other discarded materials
Kendall Soliwoda, Impressionist painter, mural painter, visual designer
Kiki Sanchez, Mostly abstract paintings
Mina Karimian, Paintings of sea turtles, sea horses and jelly fish
Sacred Space Malas by Paula Bush, Reiki charged crystal malas, bracelets, necklaces and earrings with semi-precious gemstones for healing
Sarah Jane Yeager Art, Abstract expressionist art
Smudge+Stone, Jewelry made with semi precious stones and various metals
Real Art Ways: (Interdisciplinary) Producing and presenting innovative, diverse and ambitious art works