Ekphrasis
Ekphrasis: Poetry, Music & Dance Inspired by Visual Art
We look forward to the 2018 edition of Ekphrasis on Saturday, November 17th. Stay tuned for details and multi-media participants!



ArtSpace Hartford, 555 Asylum Street
The show will be followed by an After Party & Art Reception.
CLICK HERE TO SEE THE 2016 ARTWORK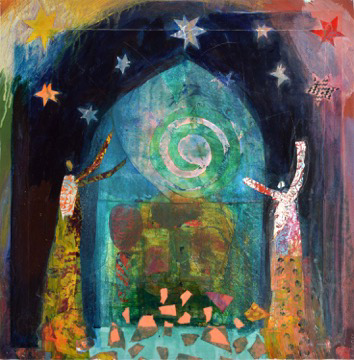 Bill Katz (guitar & vocals) – Nigel Wynter & James Roche
Charles Fort (poetry & calligraphy art)
Dori Green - Lorna Morris Cyr
Erica Nelson (contemporary dance) - Jason Werner
Frederick-Douglass Knowles II – Pierre Sylvain
Gale Gardiner (keyboard composition)
Greg Garcia – Phyllis Meredith
Izikhotane (Jim Whitten/ Karl Warner-poetry/harmonium)–Marc Burns
Jill Friedman (music, vocals) - Manselle Young
Joan Chaput - Pamela Jordan
Joan Hoffman -
JoAnne Bauer - Elisabeth Moss
Kimberly Perchaman - Nigel Wynter
Lorna Cyr - Sandra Maineri
Olusanya Bey – Joe Sam & Grace Epstein
Pamela Vitale (guitar & vocals) – Gary Jacobs
Peter Reynolds (dance) - Andres Chaparro

Rare Womack -

Robert Walker on Robert Walker

Susan Mardinly - Sarah Preissler

Swantina Monet – B.Rossitto

Terese Maineri de Velasquez - Lorna Morris Cyr

Yvon Cormier (spoken word & trumpet vignettes) – DJ Stenson, JC Spock & Robert Faucher

Originally created and coordinated by poet and artist, Lorna Morris Cyr, Open Studio Hartford's poetry event has grown into an entertaining cross-over of art forms! "Ekphrasis: Poetry, Music & Dance Inspired by Visual Art" features poetry and art, as well as music, vocals and dance depicting visual art. Poets, musicians and dancers will perform with the artwork displayed.

Poets, composers, musicians, dancers and performance artists of all kinds are sought to participate and pair with a visual artist or an artist of a different medium. Visual artwork is eligible to be chosen as the inspiration for a poem, composition and/or dance.

Ephrasis is FREE and open to the public and includes a light reception. Donations are accepted.

Additions to Open Studio Hartford's PERFORMANCE ART WEEKEND are being accepted. Performance venues, performance artists, filmmakers, musicians, dance groups, etc. are asked to contact us with interest in participating to expand offerings for the weekend. Included have been a Cinematic Celebration hosted at Real Art Ways. We welcome your ideas!