ArtSpace Hartford - Venue 2016
555 Asylum Street - Park across the street at Union Station or on the street. Visit Union Station at the same time. Validating for $5 discounted parking is available in Great Hall of Union Station.
ArtSpace Hartford hosts the Kick-Off Reception, Ekphrasis: Poetry, Music & Dance Inspired by Visual Arts, the OSH Group Show and open studios and visiting artists during Open Studio Weekend!

Open Studio Weekend 2016 featured resident artists opening their live-in work studios & visiting artists:
Basement "Grotto" (use front stairwell)
Marc Burns: (Seeing) I endeavor to affect the process of observing
1st Floor
Andres Montiel: (Acrylic, watercolor) Paintings that express in images what cannot be expressed with words
Angela P. Shenk: (Watercolor) Vibrantly colorful interpretations of the Everyday
Art by JaimeLee De La Diamantis: (Pencil, ink, markers and at times, acrylic paint) Strive to Create Art, do something AWESOME every day, step outside comfort Zone
Avis Cherichetti: (Ceramic) Avis makes functional and decorative clay objects in Raku, Saggar & Stoneware
Ben Parker: (Folded Paper) Folded sheets of paper creating complex origami tilings without cuts or glue
CARIGLIA ARTS Digital Art: (HAND PAINTED DIGITAL ART on CANVAS) Hand painted digital art on canvas
Ceramics by Elizabeth: (Ceramics) Functional and sculptural ceramic works
Christa Whitten: (Watercolor and gouache) The release of the first children's book I've illustrated, Reach For The Stars""
E & T Design: (Jewelry) Antique collectibles made into recycled sterling jewelry
Ganick Studio, Peter and Carol: (Education and various) To promote understanding and education in the arts
Innovative Design: (Fabric) Designer handmade scarves that are beautiful to look at and to wear
J. C. Phillipps: (watercolor & collage) Fun, dynamic watercolors and collages for art lovers young and old
Jeanne Peters Jewelry Design: (Wirework, Polymer Clay, Small Antiques, Found Art) Eclectic, Unique Jewelry and Gifts Using Wirework, Polymer Clay and Found Art
Jill R. Friedman: (acrylic on canvas) Art that expresses emotion, mixed with thoughts; fleeting and otherwise!
Lori Barker: (Mixed media) Mixed media photography on metal and fabric
Lou Cherichetti: (Fiber) Wool Rugs woven in Scandinavian patterns
mclainjewelry: (Jewelry in sterling and semiprecious stones) One of a kind art jewelry in sterling silver, mixed metals and stones
Megan Boyle Ceramics: (Ceramics) Wheel thrown and hand built vessels, both functional and decorative
Neil LeFebvre: (Oil on canvas / Photography / Craft) Pop-Retro Americana featuring Oil on Canvas, Photography and Craft
riri's pottery haus: (Stoneware) Functional wheel-thrown stoneware treasures featuring exquisite original designs
Sarah Paolucci: (Oil) Large scale oil paintings of hands and pet portraits in watercolor
SB Kehmna Ceramic Art & Pottery: (Clay) Unique hand built and wheel thrown decorative and functional stoneware pottery
Stacy Geryk Paintings & Photography: (Oil paintings and photography) Aerial photography, landscapes, floral close ups and natural scenes
The Art of Matt Becker: (Digital Illustration, Acrylic, and Ceramic.) Illustration, acrylic & ceramic work that feels personal, distinct & relatable
Vanessa Braucci and Brian Morringiello: (Mixed media, ceramic, photography) A plethora of works that experiment with mediums and techniques
2nd floor
Bone Flower Botanikals-Thirteenth Moon Designs: (Artisanal botanikal herbal apothecary/handmade art) Global Botanika Traditions where Ancient Wisdom intersects with Modern Vision
Cakes By Tina: (cake, cupcakes and) Cakes & cupcakes for weddings, birthday parties and other events
Corey Pane: (Mixed media painting) Capturing the endless expressions and emotions in portraits
Dana Herbert: (Interior Design) Interior Design and Decorative Paint Finishes
Del & Judi Charlton: (Stained Glass, Dichroic Glass & Wire) Stained glass mosaics, Dichroic & wire wrapped jewelry
Fiber Frolic: (Nuno Felting and Fiber Art) Felted artwork using silk and wool to create wall design and wearable art
Imani Mamalution & The High Vibe Tribe: (Painting/mixed media) Reflections of the Oneness that merges all of Humanity through Simple Rituals
J.DiScipio Art: (Oil Paint, Make-up) Abstract oil paintings and make-up artist
John O'Brien: (Pen and Ink) Pen and Ink. Simplicity in itself is an art form.
Liena Dieck Wearable Art: (Fiber Art) One-of-a-kind hand-dyed garments and scarves made out of natural fibers
Lindsay Behrens Art: (Screen-printing on paper & clothing, painting & drawing) Screen-prints on paper & clothing, paintings and drawings inspired by nature
LJB Special Photography: (Photography) Images beyond Photo-Realism
Mary Lazzaro-Bach: (Textiles) Sensory toys soothing to adults with Autism & Alzheimer's
Meredith Arcari: (Mixed media painting, photography and jewelry) Artwork touching upon the beauty of nature and our neighborhoods
Shannon Gerrity Photography: (Photography) Social photography that explores the decisive moment
Silver Thumb Studio: (Jewelry and Polymer vessels) Vintage jewelry glass, stones, brass, bronze & copper. Polymer vessels & boxes.
3rd floor
Dawn Cook aka electricdawn: (Drawing, painting, collage, sculpture) Drawings, paintings, mixed-media assemblages
Gabrielle Zane: (Mixed Media Encaustics) Mysterious, luminous works in mixed media Encaustics
Gary Jacobs: (Oil) Structured Expressionism
H.L. GROEN: (Mixed Media; Polymer, watercolor and acrylic) Guided by the technique of automatism and symmetry, saturated with bold colors
Hollie Good: (Photography) Photography
Jason Werner: (Painting) Painting
Jeff Brown: (Mixed media) Cigar Box Guitars
Joseph R. Gorneault Jr.: (Mixed) Humble Luminosity-A new series of paintings
Lytle: (Mixed) Graphic Illustration focusing on layers, color, and movement.
4th floor
Amy LaBossiere: (Mixed) Mixed media, recovery art, healthy treats
Arthur Backstrom: (Traditional film photography) Fine photos from film captured with manual cameras
CAGarthwaite Photography: (Natural Photography) Unenhanced photography In Touch With Nature""
Elena Gibson: (Felted wool, paper) Whimsical, folk-lore inspired creations using materials such as wool and paper
Katie Kopcha: (Watercolors) Watercolors that bring people of all ages, joy and happiness
Kimberly Caruso-Poley: (Mixed media art and fused glass jewelry) Mixed media art and fused glass jewelry
Kimberly Heil: (Acrylics, mixed media) Bold, bright, expressionistic and whimsy mixed media
Nancy Doherty: (Collage and mixed media on paper) Semi abstract landscapes based on travel, memory and personal vision
Phyllis Meredith Photography: (Film and digital photography) Images filled with emotion & joy using digital, film and Polaroid cameras
Soulful Creations By Denise Balcanoff: (Alcohol Inks) A soulful collection of original paintings, drawings, art prints and cards
Tao LaBossiere: (Murals, illustration, sculpture, public art) Large scale murals, rustic art tables, illustration
Visions N Clay: (Functional pottery) Unique pieces of clay created for everyday functional use
ARTISTS PARTICIPATING IN THE GROUP SHOW ONLY (ArtSpace Gallery)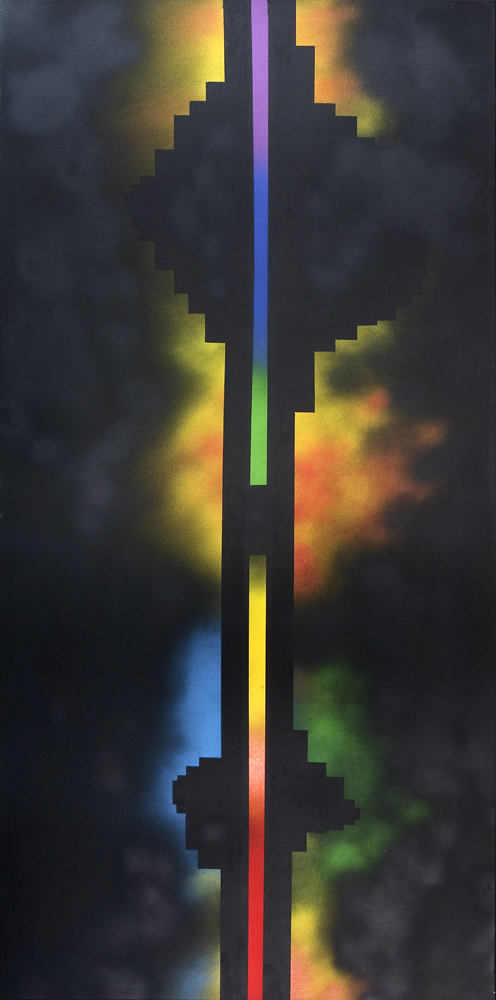 Cecil Eciam Gresham: (Painting and Photography) Live Creative Stay Creative
Elle Fagan Arts: (Watercolor) Elle Fagan Arts shares visual artworks in multimedia and arts services.
EyemnKogneeto: (Watercolor) Watercolors, to confuse and raise questions about reality and life
John Tyner: (Acrylic on canvas) Each painting is approached without a fixed vision, adding and uncovering to find it
Lorna Morris Cyr: (Oil on canvas) Playmates" and "Wolves and Aliens""
Sandra Maineri: (Pencil, colored pencil on art paper) Portrait of Baby in a Bonnet""
Ventura: (Oil Painting) I dare to deconstruct the American dream. The things we find sacrosanct.
Yanni Sembrakis: (Acrylic / Canvas) Homage to Jack Goldstein 2012 (pictured)
http://www.artspacehartford.com/Learn more about ArtSpace here