Artist Profile
Gwendolyn Quezaire-Presutti
Medium: Performing Arts, Mixed Media, Painting / Drawing
Description: Abstract art, texture intricate lines, energized vibrant colors defining space
Gwendolyn Quezaire-Presutti
Medium: Performing Arts, Mixed Media, Painting / Drawing
Description: Abstract art, texture intricate lines, energized vibrant colors defining space
Mixed media artwork created with colored pens, pencils, black ink, combination of materials and tools
Living History Actor/Performance & Interpretive reading (see below for videos and more information)
RIGHT CLICK IMAGES BELOW to ENLARGE by OPENING in a NEW TAB
Survival Fantasy 8x10
Colour pens, pencils
on cream paper
$360 Original

Sea Eatery 9x12
Colour pens & Ink
on tone paper
$280 Original

Feeding Time 9x12
Colour pens, pencils
on tone paper
$160 Original
A Very Berry Sleigh 7x10"
Oils, pen & Sakura Gelly roll pen
on black paper
$240 Original

Hidden Pride 9x12"
Pen & ink on
toned paper
$360 Original
Underwater Camouflage 9x12" Colour pens,
pencils on toned paper
$360 Original

Original artwork and Prints available for purchase!
Contact artist at Email: Arts75@quezaire-presutti.org - Telephone: 860-212-6129
To see more artwork, visit: www.Facebook.com/QuezaireArts74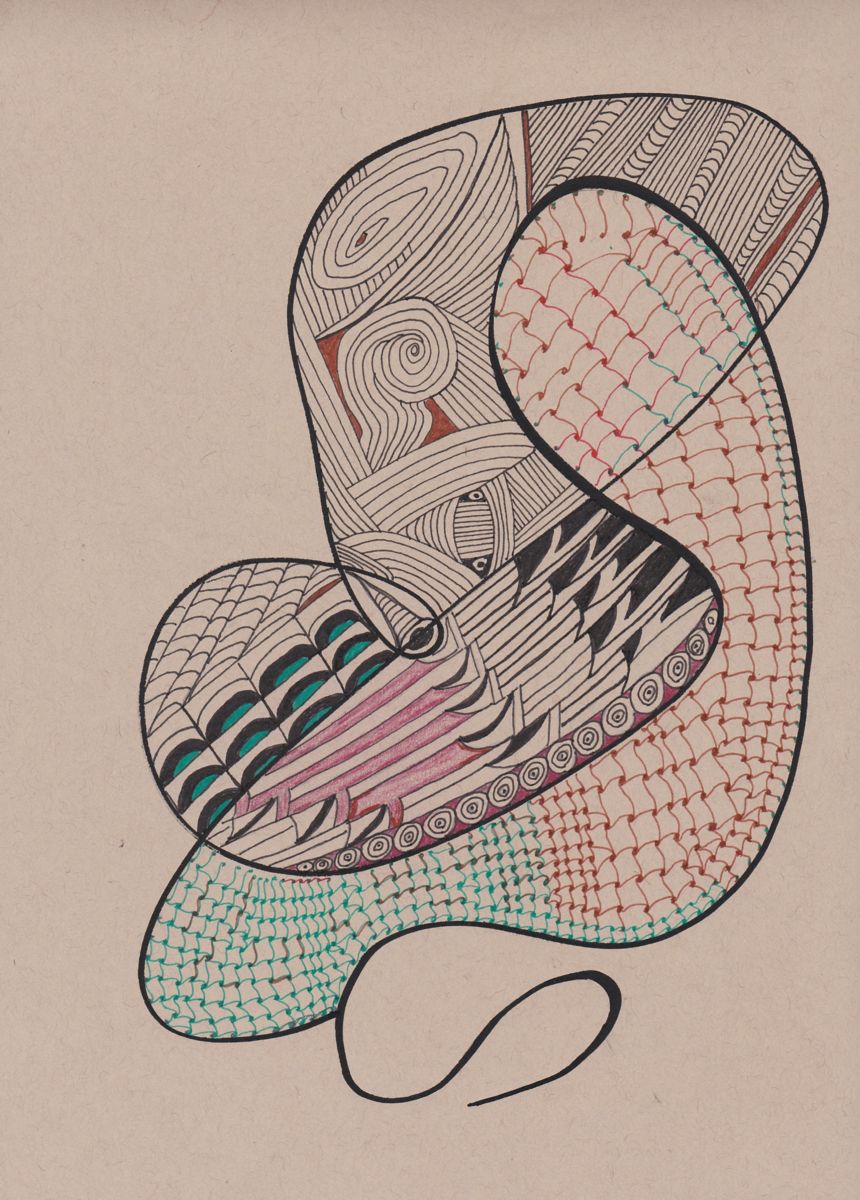 Jazz Improvisation
9x12 Colour Pens & ink
on toned paper
$100 Original
I am a Connecticut based Artist and have honed my skills for many years. The love of drawing has always been with me, using a stick to draw in the dirt, or using Granny's dried beans for mosaics, to chalk drawings on the gangway between houses. My imagination was at work during my four years of Art at St. Joan Antida Girls Academy, two years of art at the University of Wisconsin-Milwaukee, and a year at Milwaukee Area Technical College.
After 28 years in Social Welfare helping others, I retired reinventing myself as a Living History Actor. In 2017, I resumed my love of drawing after 40 years, to relax between performances on the road. Put drawings on Facebook and surprised by the positive response from family and friends. Submitted work to "Art Prof Deepti Menon" critiqued my drawing "Sea Horse," part of her assessment allied with Georgia O'Keefe style of line shaping.
With Covid-19, all performances were cancelled in 2020. I started drawing again, submitting my work for showings. I am again that little girl with her stick, chalk and beans creating from my imagination.
I describe my work as "Blind Line Abstract Drawing." My imagination considers what moves my hand make across the paper (canvas) with my eyes closed. When my internal conversation with my imagination signals me to stop, I stop drawing and open my eyes. At that moment, I meditate on the crisscrossing lines and space. My expressions of creativity come from my imagination, deciding what lines stay, which lines are erased, and which ones are filled in or not. After detailed texture lines, of varying width and geometric form are applied along with vibrant color slowly the composition starts to communicate character. These detailed lines have energized the space telling a story. Every viewer seeing a different story. This execution is called "Blind Line Drawing." Whereas "Blind Contour Drawing" like that of a Picasso. There the Artist sketches after studying the scene, or figure and not returning to the actual scene or figure until the sketch is completed from memory.
I am influenced by the nature around me and my genetic background, as well as the works of Jacob Lawrence, Shinique Smith, Odili Donald Odita, Georgia O'Keefe, and Vasily Kandinsky.
Gwendolyn Quezaire-Presutti is also a Living History Actor/Performance & Interpretive reading artist.
Her portrayal of historical women introduces untapped American History, drawing on a wide array of primary historical resources. For the past 22 years Gwendolyn has engaged audiences giving voice to real life accounts, struggles, self-determination and triumphs of women she portrays. Each performance is infused with her unique fingerprint giving an integral portrait of a historical woman or event.
Stressed 9x12" Colour pens & Ink
on cream paper $200 Original

Carbisea 9x12" Colour pens & Ink
on cream paper $300 Original
Artwork and Prints available for purchase!
Contact artist at Email: Arts75@quezaire-presutti.org - Telephone: 860-212-6129
To see more artwork, visit: www.Facebook.com/QuezaireArts74
WEBSITE COMING!