Artist Profile
Lori Barker
Medium: Mixed Media, Acrylics with Photography on Metal
Description: Colorful mixed media work blending nature and spirituality and oracle cards
Lori Barker
Medium: Mixed Media, Acrylics with Photography on Metal
Description: Colorful mixed media work blending nature and spirituality and oracle cards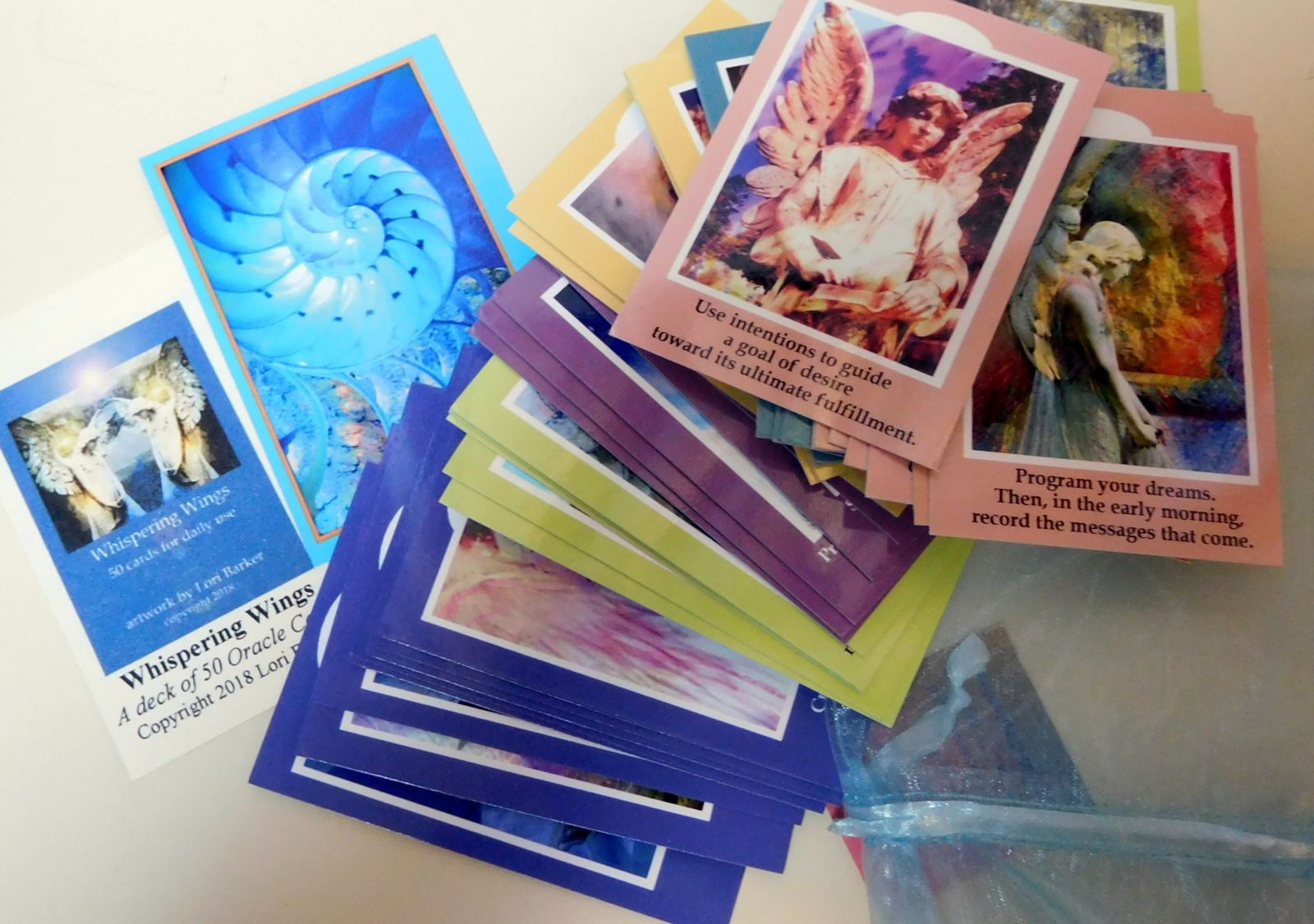 Whispering Wings: Angel card deck of 50 inspirational words and images
Price: $20
Oracle Cards are simply a tool that offers a way to focus your intuition so you can tune into spiritual guidance and insight. You may choose a card each day for inspiration.
RIGHT CLICK IMAGES BELOW to enlarge by Opening in a New Tab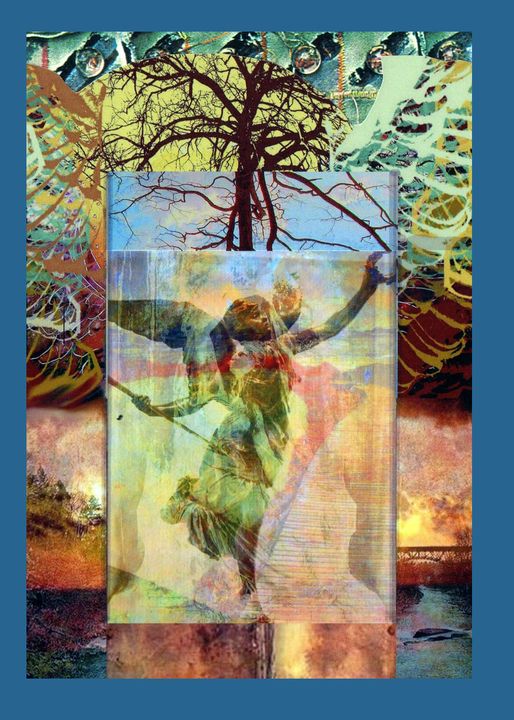 A card from
"In This Moment" deck
for Dec. 31, 2020

Lori Barker's mixed media work blends nature and spirituality into an exploration of the rhythms of life. Angels, in particular, inspire her and are Lori's trusted muse. The work is about the poetry that lives beneath the surface of things where layers of paper, paint, wood, fabric, metal and images come alive creating an altered world.
"This work is a reflection of me. When I am creating, I often feel frustrated until the materials begin to speak to me. At that time, it's like I'm flying and lose track of time. I work with a collection of materials creating a unique conversation within each composition. Creativity allows me to crystallize my experience and tone the muscles of imagination." The artist's life isn't about taking it easy and making art whenever you want to. Hard work is required, and for that you must be devoted.
Lori has devoted 50 years developing, learning and teaching techniques. "I'm truly doing the work I was meant to do, I can't imagine doing anything else." Lori is a former teacher and graduate of Southern Conn. St. University; with further studies at Savannah College of Art and Design and Bennington College. Solo exhibits in Connecticut include: Monastery Gallery West Hartford, Unitarian Meeting House Hartford, Miranda Winery, Jerrum Winery, The UCONN Library, Norfolk Artisan's Gallery, Atelier Gallery in New Milford, Church House Concerts, Haddam, the Gathering Place, Hartford, and New Milford, Torrington, and Waterbury Hospitals, St. Mary's Hospital in Waterbury and numerous libraries including the Lucy Robbins in Newington, New Milford Library, Oliver Wolcott Library in Litchfield and the Hunt Library in Falls Village. She was an Artist in residence at Santarella Museum in Tyringham, MA. In June 2009, she was awarded the Museum of Contemporary Impressionism's award for excellence. Lori and her husband opened the Artists' Path Gallery in Bantam, CT. where they showed over 40 artisans' work and won Yankee Magazine's Best Small Gallery in CT. Lori lives in Goshen, CT where she and her late husband established a charming gallery, labyrinth and sculptural grounds.
View more of my recent art : http://spiritcollage.homestead.com/new-work.html
and my oracle card decks at: http://spiritcollage.homestead.com/salepage.html
To purchase artwork: Email Lbarker2@optonline.net or text 860-294-6691 to make arrangements.
A Day Rembered




9.5x9.5" $75

Emerging




6x7" $4

2
Gold Leaf Tree
6x8" $45 SOLD
In My Heart
7.5x9.5" $54
Meandering
9.5x9.5" $75

To purchase artwork: Email Lbarker2@optonline.net or text 860-294-6691 to make arrangements.
Tour Location: