Artist Profile
Denise Balcanoff
Medium: Cold wax and oil paints, alcohol inks, Mixed Media, Painting / Drawing
Description: Vibrant colored paintings inspired by nature
Denise Balcanoff
Medium: Cold wax and oil paints, alcohol inks, Mixed Media, Painting / Drawing
Description: Vibrant colored paintings inspired by nature
Vibrant colored paintings inspired by nature using cold wax and oil paints, alcohol inks
SEE VIDEO DEMONSTRATION BELOW
Visit Denise on Facebook at www.facebook.com/dbsoulfulcreations and follow on Instagram/denise555
RIGHT CLICK IMAGES BELOW TO ENLARGE BY OPENING IN A NEW TAB
Winter Walk 6x6" $75
Cold wax and oils
Winter Thaw 16x20" $225
Cold wax and oils
Winter Light 6x6" $75


Cold wax and oils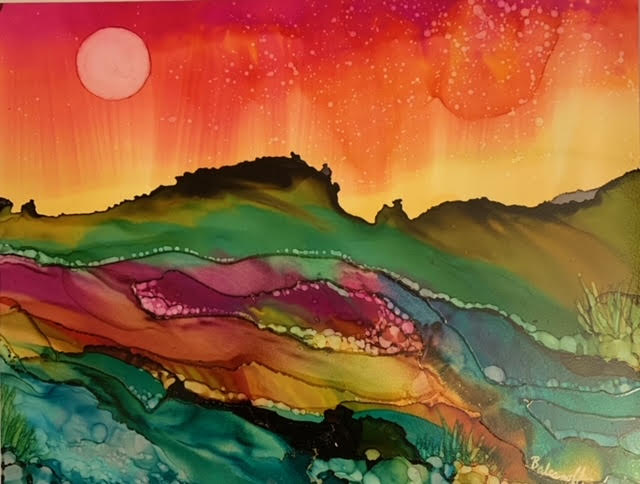 Fire Sky, Alcohol Ink 9x12" $115

Denise Balcanoff is a Connecticut artist who was born and raised in N.Y.C. She attended the High School of Art & Design in Manhattan, and later studied art at S.U.N.Y College at Buffalo. Her art is inspired by her childhood memories, of time spent playing in neighborhood parks, frequent family outings in nature, and days spent hiking with her father away from the city. It reflects those carefree days of observing and interacting with nature and its elements, hours on end, immersed in the pure joy of exploration, adventure, and discovery.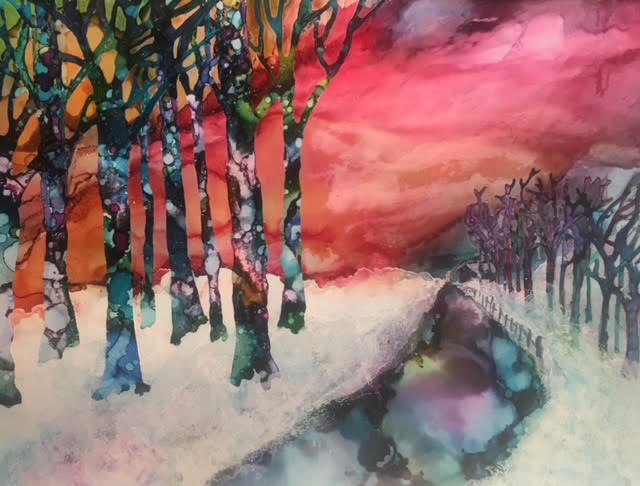 The Journey Home
Alcohol Ink 9x12" $135
Having more time on her hands, due to the Covid-19 pandemic, Denise has used this time as an opportunity to learn more, and explore the limitless possibilities of painting with cold wax and oil paints, her most recent passion. Using an array of tools, solvents, pigment powders, and other materials to add and remove color, Denise creates interesting layers of history in her paintings. She finds manipulating the paint to achieve different effects is always challenging and rewarding.
Whether Denise Balcanoff is creating with cold wax and oil paints, alcohol ink, or mixed media, her paintings are a feast for the senses. The textured layers of vibrant, delicious, colors, will excite your eyes, as well as your soul.

To purchase artwork, contact info@openstudiohartford.com
Or contact the artist directly to arrange pick-up, drop-off or shipping
at dbalcanoff555@gmail.com
Golden Moment 18x18" $475

Cold wax and oils

Glacial Passage 6x6" $75 Cold wax and oils

To see more of Denise's artwork, visit her website CLICK HERE
Tour Location: