Artist Profile
A.D. Bloom
Medium: Custom PPE
Description: Fully Functional PPE by an OSH Artist
A.D. Bloom
Medium: Custom PPE
Description: Fully Functional PPE by an OSH Artist
Contact the artist at A.D.Bloom.art@gmail.com
or by visiting his website at www.ADBloomfineart.com
Normally I'd exhibit drawings and engravings, but these are not normal times. This year I'm showing bespoke PPE.
The full face, negative pressure mask uses N95 rated inhalation and exhalation filters made from 3M part 5N11 and CPAP tubing. Glasses are held on with magnets. The masks with hose-fed air supply are powered air-purifying respirators (PAPRs). They use a battery-powered blower to draw air through a P100 filter. The beak-like exhalation filter on PAPR mask #1 is made to evoke the beak on a medieval plague doctor's mask. Those were filled with good-smelling things to ward off the Miasma or bad air thought to cause disease. This mask's beak is for filtered exhalation and is filled with rose petals to leave a pleasant scent where I go (and combat Miasma, of course). PAPR #2 also employs dual filtration and allows me to show people my entire face. The blower packs for the two PAPRs use the same components: P100 HE particulate filter made for the Powerflow PAPR system, a 12v DC 8 amp blower made for inflating pool toys (sealed up with epoxy and employing a triple redundant seal between filter and fan), a pulse width modulating CCM5D DC motor controller to control air flow by delivering measured power to the blower, and 2 Samsung 18650 3.7 volt rechargeable batteries capable of meeting the amperage requirements of the blower without catching fire.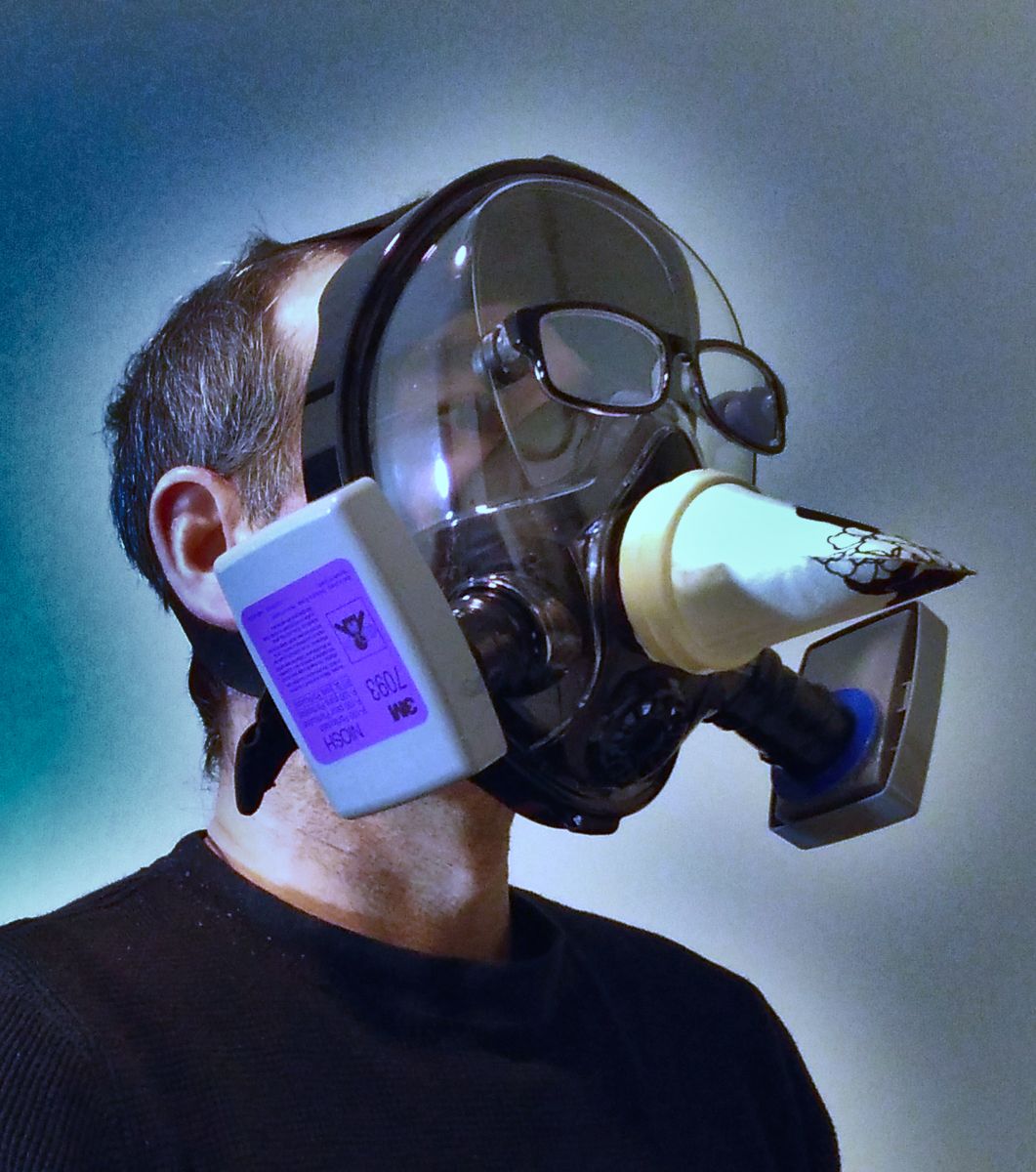 Full Face Respirator #2 (P100)
WARNINGS (in case you ignore all good advice not to and decide to build a PAPR): Only use batteries that can handle the amperage of your fan. Otherwise you'll catch fire. Or maybe explode. Not catching fire or exploding is important. Not catching Covid is important too so make sure the blower unit isn't leaking and drawing in unfiltered air through an unsealed seam in the housing or at the point where the filter meets the fan. Seal that, then seal it again. And again. If the airflow is too weak on a PAPR you can "overbreathe" and suck in unfiltered air through a poor fitting mask. Don't do that. Make sure your blower meets NIOSH flow requirements to maintain positive mask pressure. (At least 115 liters per minute for a tight fitting PAPR mask, at least 170 lpm for a loose-fitting PAPR mask). Battery voltage drops over time. Make sure you can easily turn up the power and maintain adequate airflow. Test your blower's airflow over time and varying voltages before using. How long does it take to fill a 30 gallon garbage bag? How long after running 90 minutes? If making a negative pressure mask, make sure it fits. If it doesn't fit well, you'll draw in unfiltered air through a gap between your mask and your face. So make sure it fits. Only use high quality filters rated for the intended airflow. Maintain social distance when using. Legal disclaimer: Even if you mind all of the above cautions you may still catch fire, explode, and get covid-19 too. This artist takes no responsibility for what may happen to you if you decide to build your own PPE. Stay healthy.
See more at ADBloomfineart.com