Artist Profile
Terese Maineri de Valesquez
Medium: Mixed Media, Jewelry / Fiber
Description: Eclectic designs inspired by international travel and Peace Corps service
Terese Maineri de Valesquez
Medium: Mixed Media, Jewelry / Fiber
Description: Eclectic designs inspired by international travel and Peace Corps service
For information on payment methods, delivery, pick-up or shipping,
Contact the artist at tmaineri@yahoo.com or telephone 240-280-8520
See more artwork at: www.etsy.com/shop/CeciliaImports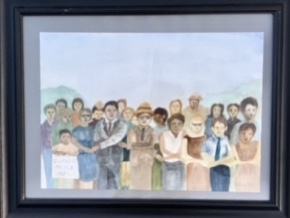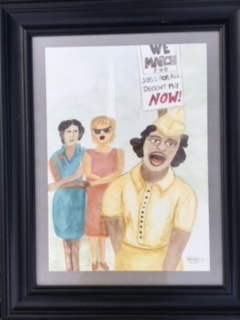 March on Washington Watercolor 12" by 16" and March on Washington (2) Watercolor 12" by 16"
---
Ms. Maineri's art subject matters draw from her international experiences. In 2000, Ms. Maineri de Velasquez received a BA in Studio Arts and Art History from Clark University and a MA in International Development in 2001. She has marketed handicrafts for the Consolata Youth Rehabilitation Program (COYREP) in Kenya. She has served as a Peace Corps Volunteer with the Asociacion Fémenina en el Desarrollo en Sacatepéquez (AFEDES), a micro-credit agency located in Santiago Sacatepequez, Guatemala.
Ms. Maineri has participated in a number of art shows including: Angels in the Casa Art Show at ArtSpace in Hartford, CT; annual participation in Open Studio Hartford, CT and Art in the Park in Manchester, CT. In 2014, she showed in the NYC RPCV Art Show, How Was It? and in 2015 showed at Rutgers University's in as show called Lasting Impressions. Terese's first painting was accepted in the Peace Corps Museum in Washington, DC. The museum featuring Ms. Maineri de Velasquez's piece, El Sueño Americano is slated to open in January 2020.
Angel en la casa
Oil on canvas 14" by 28"
El Mercado
Oil on canvas 14" by 18"

Sueno Americano Oil on canvas 24" by 28"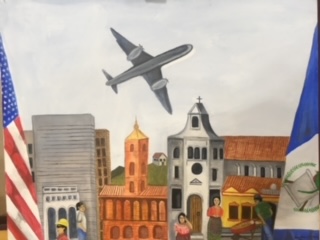 Contact the artist at email: terese.maineri@ct.gov or tmaineri@yahoo.com
See more artwork for purchase at: www.etsy.com/shop/CeciliaImports
Tour Location: