Artist Profile
Jeffrey Hutton
Medium: Painting and Performing Arts
Description: Landscapes, abstracts and portraits, both realistic and impressionistic
Jeffrey Hutton
Medium: Painting and Performing Arts
Description: Landscapes, abstracts and portraits, both realistic and impressionistic
THE ARTWORK OF JEFF HUTTON
These works represent a small sample of my acrylic paintings. I am a landscape designer by profession
as well as a creative writer but painting is increasingly my great passion. I also work in pen and ink.
| | |
| --- | --- |
| | |
| Woody Guthrie | Acoustic Guitar $300 |

I am working on a series of portraits of the first 50 folk/rock musicians. Of course, Woody had to come first.
Lakeside
2.5x2' $250
City Morning
20x16" $150
Storm Wave
$250
Seattle Waterfall
18x24" $220
| | |
| --- | --- |
| | |
| Blue Morning 2 x 4 $370 | Gold Morning 3 x 3 $300 |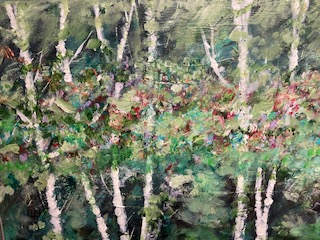 Birch Grove, 18x14" $90
Drawing and painting have been something I've done for as long as I can remember. Besides painting I enjoy doing pen and ink drawings. I am actually a professional landscape designer… which combines my love of both nature and art. I'm a writer as well with three published books. A novel, Perfect Silence, about the civil war and the early years of baseball… and ultimately a love story… published in 2000, the movie rights are currently being marketed. Inside Out; The Art and Craft of Home Landscaping. And Rocks, Dirt, Worms and Weeds: a Gardening craft book for kids and one of my ultimate pleasures…My daughter and I perform acoustic music together as well.
"As a landscape designer I'm often surrounded by beauty as well as the potential for beauty which my landscape work helps me achieve. I've been fortunate to achieve some professional recognition for that work and have had the opportunity to teach. I have drawn and painted for as long as I can remember but have become more serious about it in the last couple of years. My basement studio is adorned with fifty or so paintings... and I feel like I'm just getting started and learning all of the time."
Thanks for having a look.
Enjoy.
For information, purchase, and to see all available artwork,
contact the artist at jhutton7@aol.com or at 860-798-3576
VIDEO of Jeff and his daughter
performing acoustic music together
Guitar and vocals

Tour Location: