Artist Profile
2023S Cathy O'Keefe
Medium: Painting / Drawing
Description: Abstracts on wood - PAIRED with Andy Jarcho on Alto Sax for EK
Price Range: $800-1200
2023S Cathy O'Keefe
Medium: Painting / Drawing
Description: Abstracts on wood - PAIRED with Andy Jarcho on Alto Sax for EK
Price Range: $800-1200
These colorful abstract pieces are acrylic on wood.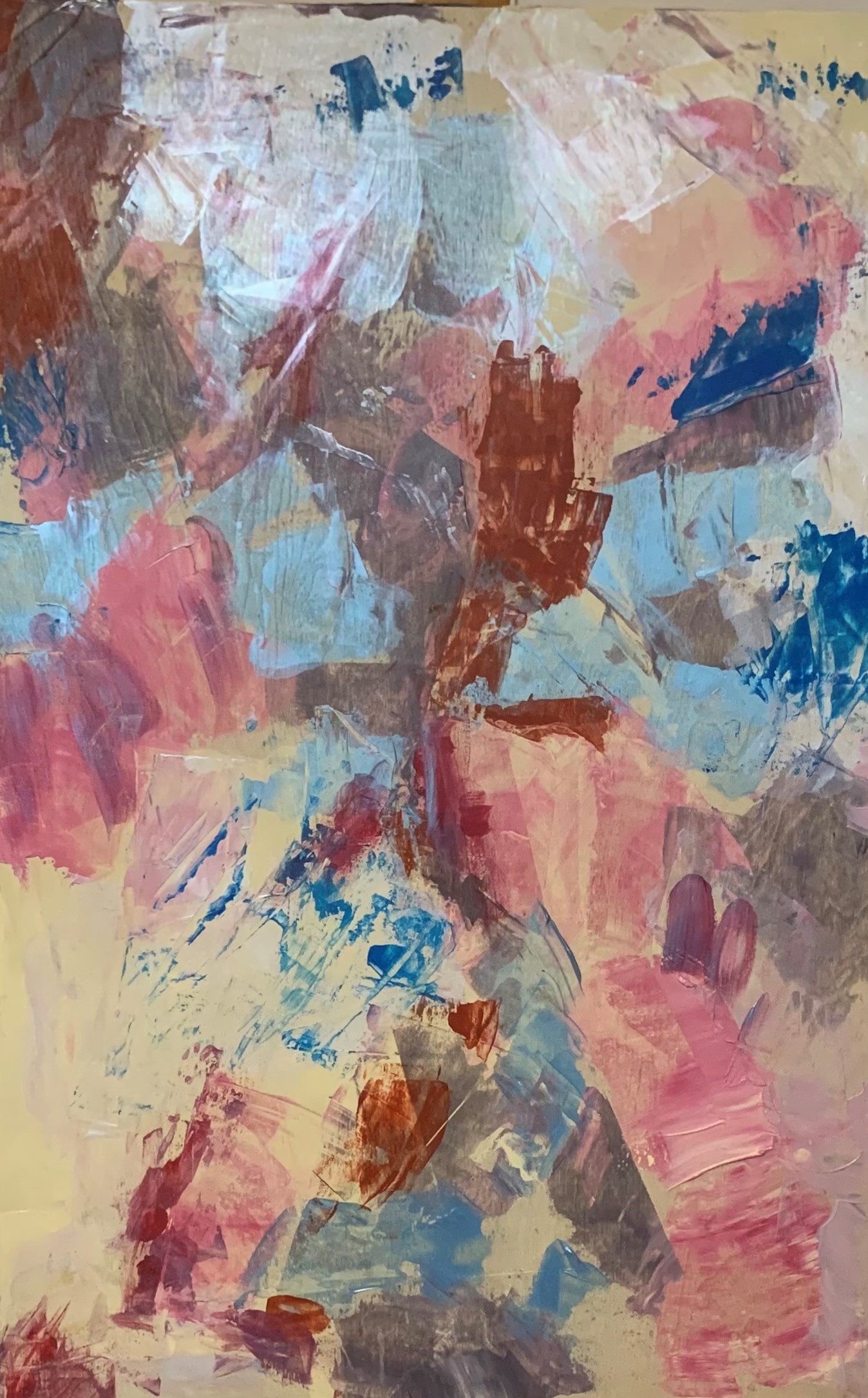 Winter Morning
30" x 20" $800
As a painter, I create with a mixture of abandon and focus. I intuitively choose my materials. I let the work speak to me. I then bring the elements together to create a cohesive, joyful whole. I love the silence I feel inside while painting. The paintings themselves seem to call out with dynamism and a variety of emotions. I appreciate that people who view my paintings all see, feel, and think something different.
Cathy O'Keefe is a self-taught abstract expressionist painter. She works in oils. However, during the pandemic she became involved with mixed media as part of her introduction to monotypes and frottage. Her development happened as a direct result of her membership in a Carter Burden printmaking group that turned to zoom, where members shared their art created with materials they had on hand at home. These artists were given a great gift of deep friendship and artistic growth. O'Keefe has since worked extensively in acrylics, watercolors, and gouache. Many of these paintings move from abstract to interpreted realism. All of her work celebrates color and movement.
O'Keefe's paintings have been featured in galleries and cultural centers including the Dorsky Museum in New Paltz, New York; the IMAGO Gallery in Warren, Rhode Island; Medford Arts in Medford, New Jersey; and the Gallery @ Paragon in Phoenixville, Pennsylvania. In New York City her work has been exhibited at numerous venues, including the Pictor Gallery, Pleiades Gallery, the Ceres Gallery, the Society for the Advancement of Judaism; and the Greenpoint Gallery.
In addition, O'Keefe's work is in public and corporate collections including those of the Justice Center of Southeast Massachusetts in Brockton; Tri-Valley Transit in Middlebury, Vermont; the North Suffolk Mental Health Association in Chelsea, MA; Eliot Community Human Services in Lynn, Massachusetts; and Yale University in New Haven, Connecticut. O'Keefe taught painting to seniors as part of a CAC grant at the SAJ and currently teaches painting to seniors at Covello/Carter Burden Network and the YM/WHA in Manhattan. She is an active member of the New York Artists Circle, the Northern Manhattan Arts Alliance, and the New York Society of Women Artists.
Tour Location:
Email: cathyokeefe.nyc@gmail.com