Artist Profile
2023F Barbara Hocker
Medium: Mixed Media
Description: Works on/of paper filled with the beauty & serenity of nature
2023F Barbara Hocker
Medium: Mixed Media
Description: Works on/of paper filled with the beauty & serenity of nature
Wall works, artist books, & jewelry filled with the beauty & serenity of nature

Barbara Hocker is a Connecticut mixed-media artist based in Hartford. She was born in South Norwalk, where she lived between the beach and saltwater marsh, her life organized by the tides. After an epiphany in a traumatic summer of 1999, Barbara has focused on expressing tranquility, ephemerality, and meditation in her artwork with water as her current subject. She collages digital photographs with prints/paintings by weaving the paper and infusing it with encaustic wax, creating works on panel, handmade books, and installations. She also sometimes writes haiku to accompany her artwork.
Barbara has exhibited extensively, including solo shows in Hartford, New Haven, and Boston. Her work in institutional collections includes University of Colorado Library's Rare and Distinctive Book Collection, Sackner Archive of Concrete and Visual Poetry at The University of Iowa Libraries Special Collections, Memorial Sloan Kettering hospitals in Manhattan, Westchester, and New Jersey. Awards include Fellowships/Grants from Connecticut Office of the Arts, Greater Hartford Arts Council, Berkshire Taconic Foundation, and the Edward C. and Ann T. Roberts Foundation. She studied Fibers at Syracuse University and Cranbrook Academy of Arts.
She says about her work: My life's vocation is being an ambassador for the natural world through my art. The depth and extent of the crises facing Nature are overwhelming. There is so much to do it can be difficult to start, but the Earth needs our love and care. I express my experience of the beauty of nature in my work to inspire that attention, love, and connection in viewers. Let us start where we are. I start by capturing images with various digital cameras and lenses. I shoot skies, waterfalls, streams, rivers, lakes, and the sea. I look to find the feeling of the moment and place and often write haiku to accompany images or pieces. I print the photographs, pull abstract monotypes, and paint watercolors on thin sheets of rice paper, infusing them with encaustic wax. Papers are cut into strips and woven together then mounted onto panels. The wax makes the paper translucent and blends the images together, creating a sense of depth and movement. I use the same images and haiku to explore various book formats and bookbinding techniques ranging from hardcover accordion fold books to book sculptures. Seriality, repetition, and the encoding of time are all present in the building up of the book stitch by stitch and page by page. Trained as a Fiber Artist, I am attuned to how many small actions can build up to larger effects. In the same way, our seemingly small personal actions can combine to begin to heal us and the Earth.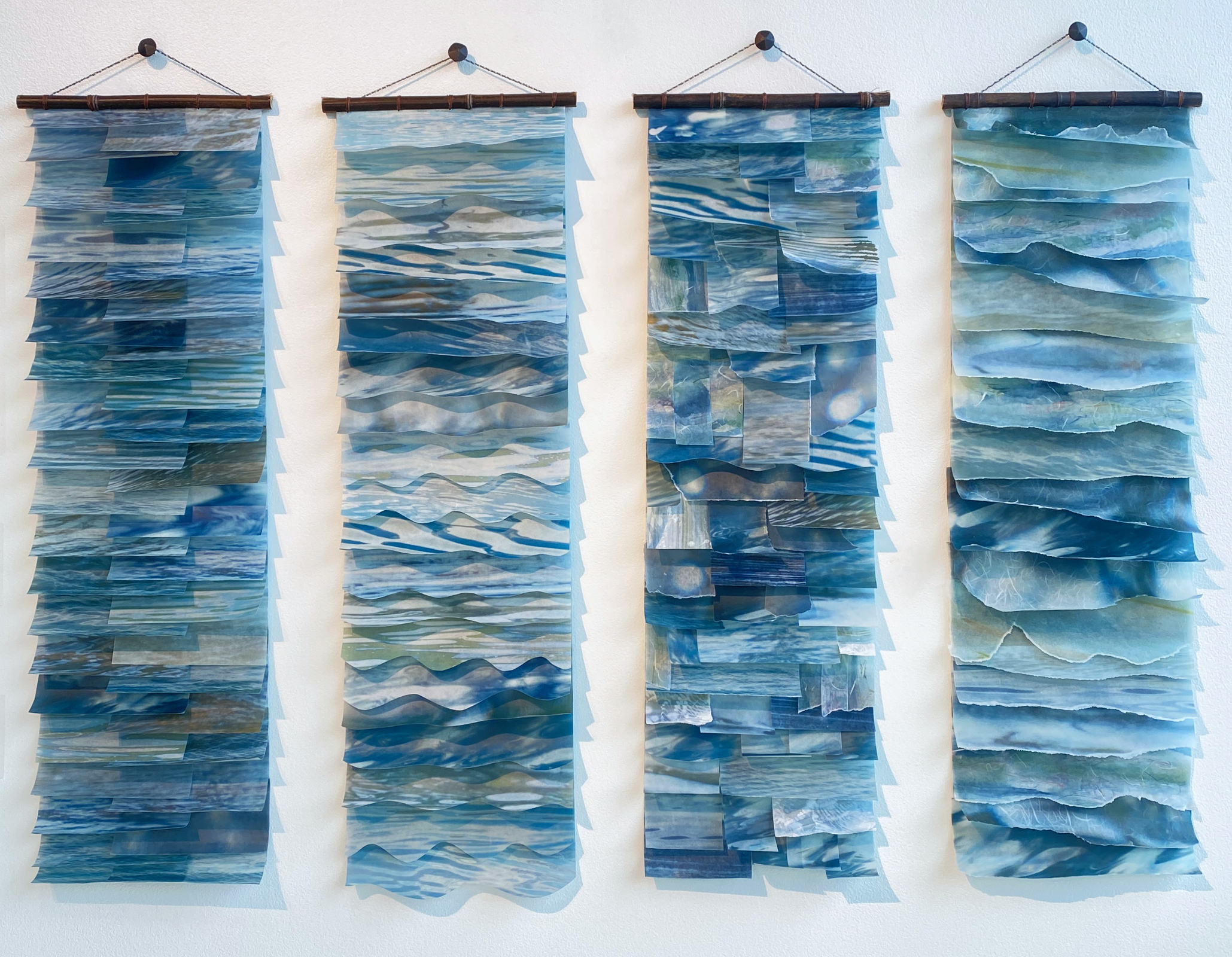 Tour Location: 56 Arbor Street Studio
Email: barbarahocker@att.net