Colt Gateway - Venue 2019

VENUE #5
was open Weekend #1 in 2019
On the Colt Campus:




34 Sequassen Street on the corner of Huyshope Avenue
COLT GATEWAY hosted nearly 100 artists and group shows!
For information on any of these artists or groups, email info@openstudiohartford.com
CREC Greater Hartford Academy of the Arts:
Multimedia FREE hands-on workshops for ALL Ages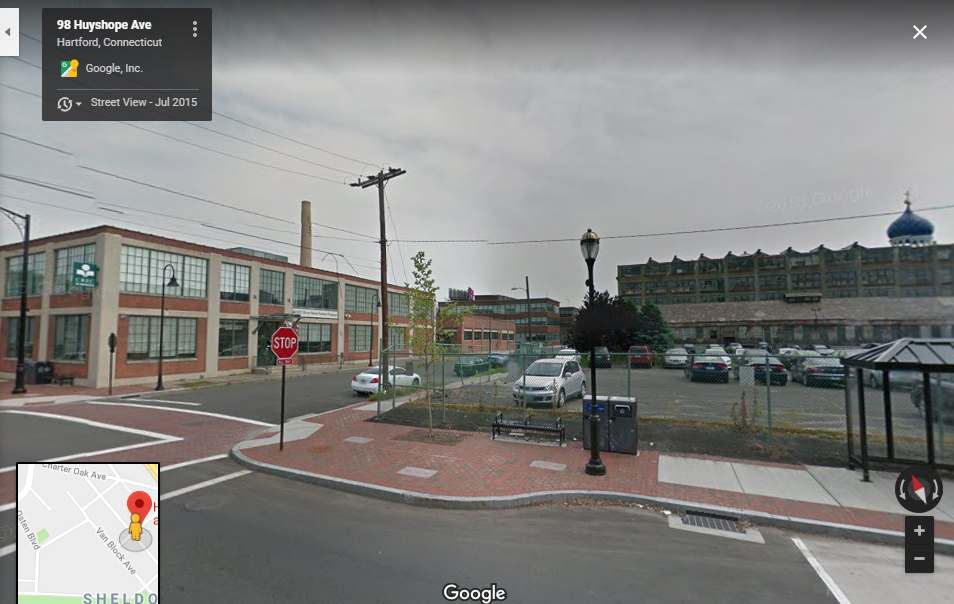 Hartford Art School, University of Hartford:
Works and installations of over 30 emerging student artists
Bottles of Hope Workshop, A little bottle, a bit of clay, a gift of hope
AND OTHER LIVE PAINTING AND ACTIVITIES TO JOIN!
Listed Alphabetically by first name. If you'd like to know more about each artist, use the Search feature at the top of the page
A.D. Bloom, Cryptographic drawings and engravings with both hidden animals and titles
Alan Kendzior, Landscape, Nature, Wildlife as well a little streak of abstract photography
Allison Flores, Handmade functional ceramics that make every day special
Amini Soaps, Hand crafted natural soaps, scrubs and body products
Angela Thomas, Urban boho sheek designs
Antony Zito, 3 large multi-panel paintings for a solo exhibition in New York on 11/22/19
Art by Eddie S (Eddie Sipes), Abstract paintings using epoxy resin
Art by Lucy Shuki, Mixed Media - Where the impression of nature, motion, and hue meet...
Bolga Baskets, Ancient craft of hand woven baskets from grass
Carlene Buchanan, Unique and original abstract and digital art, expressive embodiment of no rules
Carol E. Bower Photo-Graphics, Framed, miniature fine art photos of birds, wildlife and Cape Cod
Cas, Hand painted images on relics and/or junk
Cetacean Society International, "Rails to Whales" Steam Train Photography by Ken Roberts
Chocolate Thunder, A bubbling music artist writing from the soul mainly generating fun hype good vibes and diverse sounds
Chris Figat, Modern impressionism paintings with a focus on the human subject
Christopher Brown, One of a kind oil paintings representing vibrant color and thick texture
Christopher Gallagher, I explore the boundary between that which is manifested in that which is not yet
Christy Corey, Colorful watercolor and acrylic paintings of food, landscapes, plants and more
Cliffside Crafts, Wood Turning Carving
Colleen Malley, Photography of various subjects including flowers, butterflies and the ocean
Courtney Silvia, Portraiture painting in oil and acrylic
CREC Greater Hartford Academy of the Arts, Multimedia FREE hands-on workshops for ALL Ages!!!
Cynthia Haze, Mixed media artwork that is bright, colorful and a little crazy
Denise Balcanoff, A collection of joyful, vibrant paintings and creations inspired by nature
Donna Anderson, Mixed media art objects
Doug Hockman Photography, Fine art nature and abstract photography
EAMARTWORK, Opaque bright oil colors on a variety of different surfaces and sizes
Eco-Printing, Images of leaves imprinted on silk through a steaming process
Emilie Cohen Jewelry, Futuristic, medieval silver and gold jewelry
Eric Urquhart, Fantasy worlds and landscapes
ERP Studio & Artsy Meg, Handmade pottery and eclectic jewelry made by two college students!
Forbidden Forest Art, A variety of handmade pottery with both dark and nature inspired designs
Freestone Forge, Metal and wood sculptures, home decor and furniture inspired by nature
Fresly Studio, Eye-catching, beautiful and inspiring photography
Frozen Leaf Photos, Landscapes, seascapes, sunrise and sunset photography CT, ME, and Southern FL
Gay Schempp, Encaustic (pigmented bee's wax), and mixed media on birch panels
Genti Bushi, Abstract modern art, shapes and emotions
Grace Epstein, Functional, illustrated pottery and oil paintings
Grassillini Creations, Quality handmade leather items including belts, wallets, bags, cuffs, purses
Hartford Art School, Painting, illustration, graphic design, drawing, sculpture, ceramics
Jasmine Jones / Aislin Magazine, Black and White Street Photography, Portraits and Art Magazines
Jess Franks, Landscape and floral paintings that dance the line between real and abstract
John Hofmann Photography, Landscapes, Coastal Scenes and Refelections
Josh Menko, Fantasy stipple art with a focus on texture
KAATU Khonda African Arts, Handmade Afrocentric bags and jewelry
Kaelan Czajka, Mid to large scale neo-expressionist multi-media paintings
Kelly Taylor, Abstract interpretations of land and sea using a variety of mixed media
Kelly Triolo, Paintings
Kurt Suydam, Photography: "scapes'" (Landscapes, Seascapes, Cityscapes)
Larry Freibauer, Abstract, stream of consciousness, whatever is in my brain at the time
Linda Joyce Ouellette Photographic Art, Original photography art prints, cards, pet portraits, hand painted ornaments
Margaret Gammell and Mary Talbot, Figurative and abstract art in ink, acrylic, oil and watercolor
Marydees Alley By Mary Dombrowski, Manipulations of ink in vivid colors to express color in our world
Michael Bibow-Finucane, Oil paintings influenced by the Hudson River School
Michelle Hawran, Colorful acrylic pet/human portraits and hand embroidered patches/bags
mijumi, Mixed media and my genre is life
Mobiles by Brad Robinson, Dynamic mobile sculptures that float in space
Molly Shaughnessy Encarnacion, Mixed media work that contains ideas of both Chaos and Control.
Nataliya Sazonova, Mixed media collage paintings and watercolors
Natasha D. Miles, Experience the unforeseen, embrace the present.
newagehoodrats, Street Art/Graffiti/Tattoo art/Psychadelic
Nigel Wynter Art, Still Life, Landscapes and sports related art in a realistic style
Oyster Collective, Hand crafted jewelry
Paws That Draw, Rescue Dog, Interpretive art based on color and form
Pieces of Our World-Wanda Brown Claitty, Multimedia art on wood pallets, canvas, original gift cards and wearable art
Renée Hughes, Color,overprinting shapes,textures and layers dictate the direction of the print
Reo, Graffiti mixed with relic found assemblage art
Resilience, Screen-printed clothing with positive mantas to support mental health community
Royal Angel Creations, Bohemian wire wrapped crystal jewelry in copper or sterling silver
Sandra Baker, Collages designed with torn or cut painted paper and abstract paintings
Sarah Rohlfing Studio, An exploration of color and expression
Sarah Rose Aromajewelry, Wire-wrapped essential oil diffuser pendants made from miniature glass bottles
Shin Wakabayashi, Plein air scenes, portraits of Buddhist Temple warriors done in gouache and paper sculpture
Stephanie Leaphart, Handcrafted art jewelry inspired by the Global Diaspora
Sue Fenton, Vivid images of many genres rendered artistically as well as works of photo art
TaggART, Portraits of people made with string and nails
T-Diva Designs, Handmade Semi-Precious & Trendy Jewelry, Crochet, Greeting Cards & Fabric Pieces
Tenom, Bright and colorful and a little twisted mixed media
Terese Maineri de Velasquez, Eclectic designs inspired by International travel and Peace Corps service
The Beekeeper's Basket, Handmade bee-related soaps, balms, wraps, bracelets and skincare
The Blue Hydrangea, Paintings that are an emotional response to time and place
Third Eye Studios, Collage, abstract, mixed media, furniture, photography and more
Timothy Alexander, Abstract paintings in oil or acrylic representing a reciprocate of the minds eye
TotiArt, Mixed media collage using watercolor, pastels and acrylic, vintage imagery
Veterans Therapy Through Art, A variety of art forms used as therapy for veterans
Yashika, Nature abstractions co-relating with life
ZeroSnake, Illustrator recognizable by his stylized characters & animated work