Artist Profile
Barbara Hocker
Medium: Encaustic / Photography / Printmaking, Mixed Media
Description: Work on/of paper filled with the beauty and serenity of nature
Barbara Hocker
Medium: Encaustic / Photography / Printmaking, Mixed Media
Description: Work on/of paper filled with the beauty and serenity of nature
40% DISCOUNT FOR OPEN STUDIO HARTFORD VISITORS!
The prices listed are retail. Anyone who contacts me and mentions OSH will be offered a 40% discount off the retail price.
ork can be picked up in Hartford, delivered by the artist to a reasonable distance, or actual shipping costs will be charged.
TO ENLARGE images below, RIGHT CLICK to Open in a New Tab
River Rhymes VIII
8x8x1" $250
River Rhymes I
8x8x1" $250
River Rhymes IX
8x8x1" $250
River Rhymes XV
8x8x1" $250
To see more of Barbara's artwork, visit her website at https://www.bahocker.art/
To purchase work and see other available pieces CLICK HERE
Follow on Instagram at instagram.com/bahocker - Contact by Email barbarahocker@att.net
| | |
| --- | --- |
| | |
| Woven Water XXIII 20x36" $2500 | Woven Water XXIV 12x24x2" $900 |
Indigo Waves V




6x18x2" $275

Indigo Waves IV




6x18x2" $275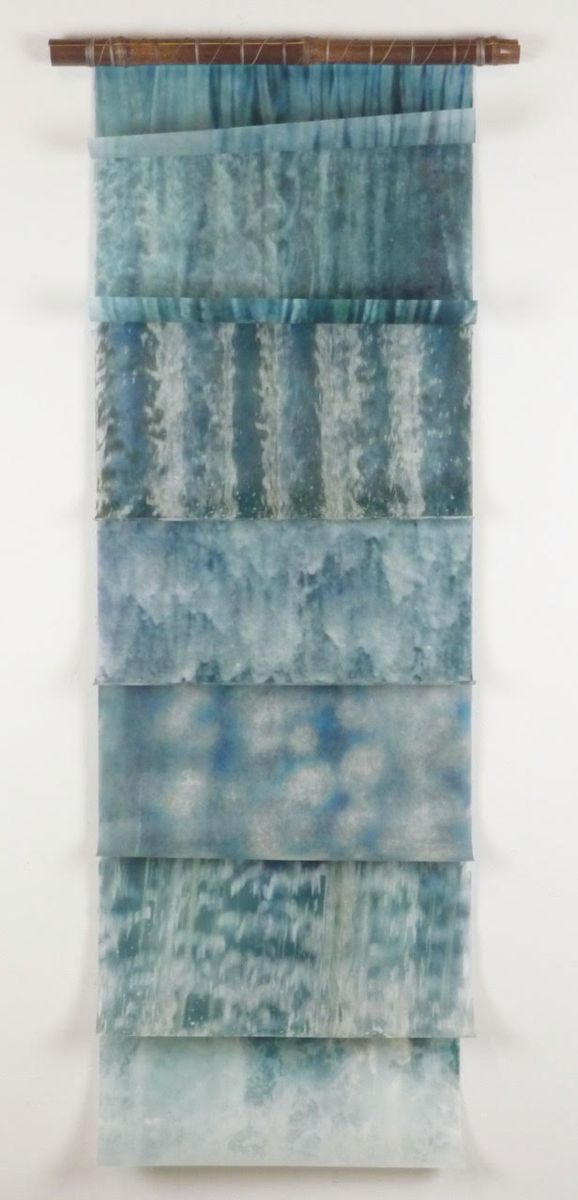 Whirlwind Waterfall 2021
54x22x1 $1,200
I love of being alone in the woods or at the shore. That feeling of nature "bathing" is what I try to bring into my art making. I am inspired by the things I learn about nature and energy thru my practice of Tai Chi & Qi Gong, which are ancient Chinese forms of moving meditation and internal martial art. They teach me how to connect to nature and feel the world instead of just looking at the surface of things. Yin and yang, being and nonbeing, stillness and movement, light and dark, sea and sky, surface and depth, sight and sound, artist and viewer, self and nature - I am interested in exploring how one can see beyond polarities to sense the invisible and mysterious unity underlying them. I try to share the sense of presence, deep quiet, and dynamic stillness that I find in meditation through my artwork.
I grew up in Connecticut and have extensive experience creating and exhibiting work, including solo shows and projects in Hartford, New Haven, Newport, and Boston. She has work in several corporate and private collections, including the permanent collection of The Memorial Sloan Kettering Cancer Center in Manhattan and several related hospitals in New York and New Jersey. Awards received include an Artist Fellowship from the Connecticut Office of the Arts, an Individual Artist Fellowship from the Greater Hartford Arts Council, a Creation of New Work Initiative Grant from the Edward C. and Ann T. Roberts Foundation, and an Artist Resource Trust Fellowship from the Berkshire Taconic Foundation. She holds a degree in Fibers from Syracuse University's College of Visual & Performing Arts and attended Cranbrook Academy of Arts.
Barbara lives in Bolton, CT and maintains a studio in the Arbor Arts Center in Hartford.
| | |
| --- | --- |
| | |
| Water Moments I 18x22" unframed $800 | Water Moments II 18x22" unframed $800 |
| | |
| --- | --- |
| | |
| Water Verse X 12x12" $500 | Water Verse V 12x12" unframed $500 |

To see more of Barbara's artwork, visit her website at https://www.bahocker.art/
To purchase work and see other available pieces CLICK HERE
Follow on Instagram at instagram.com/bahocker - Contact by Email barbarahocker@att.net
Tour Location: