Artist Profile
Freestone Forge
Medium: Mixed Media, Wood / Furniture, Ceramic / Sculpture
Description: Classic, nature inspired metal and wood sculptures and goods
Freestone Forge
Medium: Mixed Media, Wood / Furniture, Ceramic / Sculpture
Description: Classic, nature inspired metal and wood sculptures and goods
#1: "Nebula" Frame measurements 22" W x 18" H x 1" W / $417 A sculpture made entirely out of bismuth. It is made through a process of melting and layering the metal. All colors are natural and made by controlling the rate of cooling and oxidation process. The bismuth sculpture is approximately 8" H x 7 1/4" H x 1/6" thick. The brittle bismuth sculpture is affixed to a stainless steel back plate, which is then affixed to the backer board of the frame with padded copper wire rods.
#2: "Dinosaur Skull" 7 ¼"H x 12 3/8"L x 6 5/8"D / $110 A driftwood sculpture, so named due to its similarity to a skull, is a natural piece of driftwood from the shores of the Maryland Sassafras River. The sculpture makes a wonderful addition to any mantel or shelf and is definitely a conversation piece. The driftwood is positioned and mounted to highlight its natural beauty and unique constitution. The sculpture is mounted on a rod and into a wood base with a Danish oil finish.
#3: "Winter Dogwood" Approx 30"H x 40"W x 6"D / $1285 A sculpture of a Dogwood branch in the depths of winter. 500 pieces of steel were hand cut, forged, welded, sanded, and polished over weeks to create this sculpture. The branch was cold blued and finished with a clear epoxy. Some areas are left steel colored to really bring out the icy aspect of the winter branch. As seen in some of the pictures, the branch is three dimensional with a deepest depth being 6 inches. Trunk is 5/8" steel. Smallest branches are 1/8" steel. There are a number of hooks on the back for hanging.
#4: "Sun Over the Marsh" / Over widest parts 15.25"H x 7"W x 2.25"D / $155 A handmade abstract steel sculpture. It is tall enough to be an accent on a mantel or next to a large screen TV and slim enough to fit on a shelf. The steel was heat treated to color and finished with an epoxy and wax top coat. Just over 2 pounds.
See more items at our website www.freestoneforge.com or on Etsy at www.etsy.com/shop/freestoneforge
Holiday Ornament Display Tree: $ 85, 26.5"H x 25" x 6"D. Sturdy, hand forged, steel, holiday tree. Finish in black lacquer or color of your choice. Add a unique touch to your holiday by displaying your ornaments on this simple, elegant hand forged steel rebar tree. The tree was designed to be slim to fit on a fireplace mantel or the back of a buffet table or credenza.
Beechwood slab coffee table: $1200, 20.5H x 44.25W x 22.25D at widest part, Beautiful spalted beechwood slab table with 3/4" solid, hand forged base with mortar and tenon joinery. A true treasure to be handed down for generations.
Deep Sea Fish: $ 89, 30.5"H x 16" W x 5 5/8"D. Driftwood sculpture mounted on wood stand. Finished with linseed oil.
Grill spatula: $69, 22.5" total length. Flipper: 3 5/8" x 4.5 long.
---
Jill Opland (°1965, Minnesota) is a self-taught sculptor/metalsmith. Her art reflects her deep appreciation and fascination for the wonders of nature. From a young age Opland was inspired by the shapes found in nature and the beauty of natural elements. A single blacksmithing class sparked her passion for working with metals. Opland works are characterized by the use of natural materials and hand-forged metal to create sculptures she hopes inspires others to see the beauty and wonder of nature.
Applying aleatoric methods in her artistic composition Opland lets nature direct her and dictate the outcome of a piece. The majority of her sculptures are abstract. As her works features coincidental, accidental, and unexpected connections, interpretation becomes multifaceted. In addition, Opland creates unique kitchen wares, home décor, and yard items/tools. In September of 2018 Opland was presented the award for "Most Original" at the Old Wethersfield Art and Craft Fair.
Jill resides in Wethersfield, CT where she draws constant inspiration from the ocean shores and New England forests.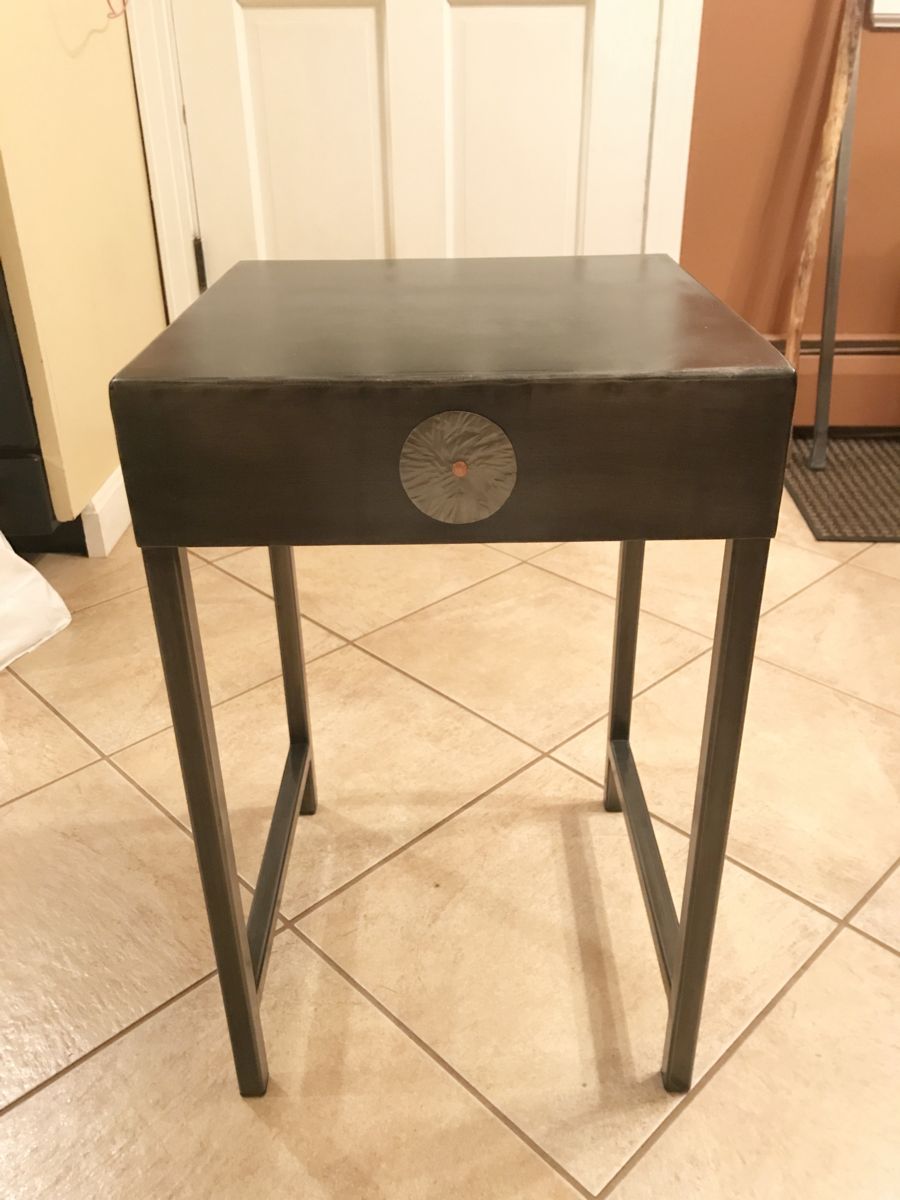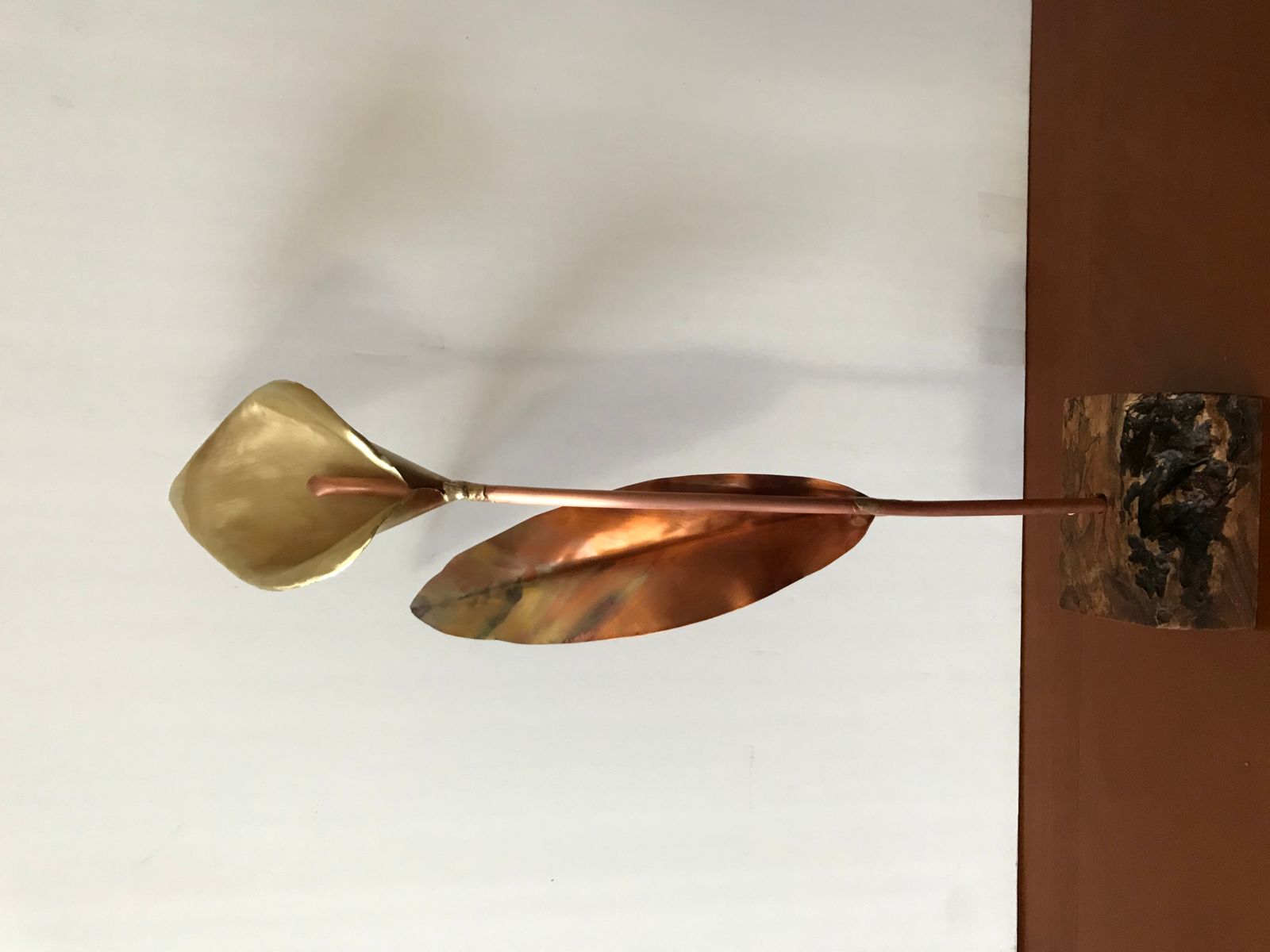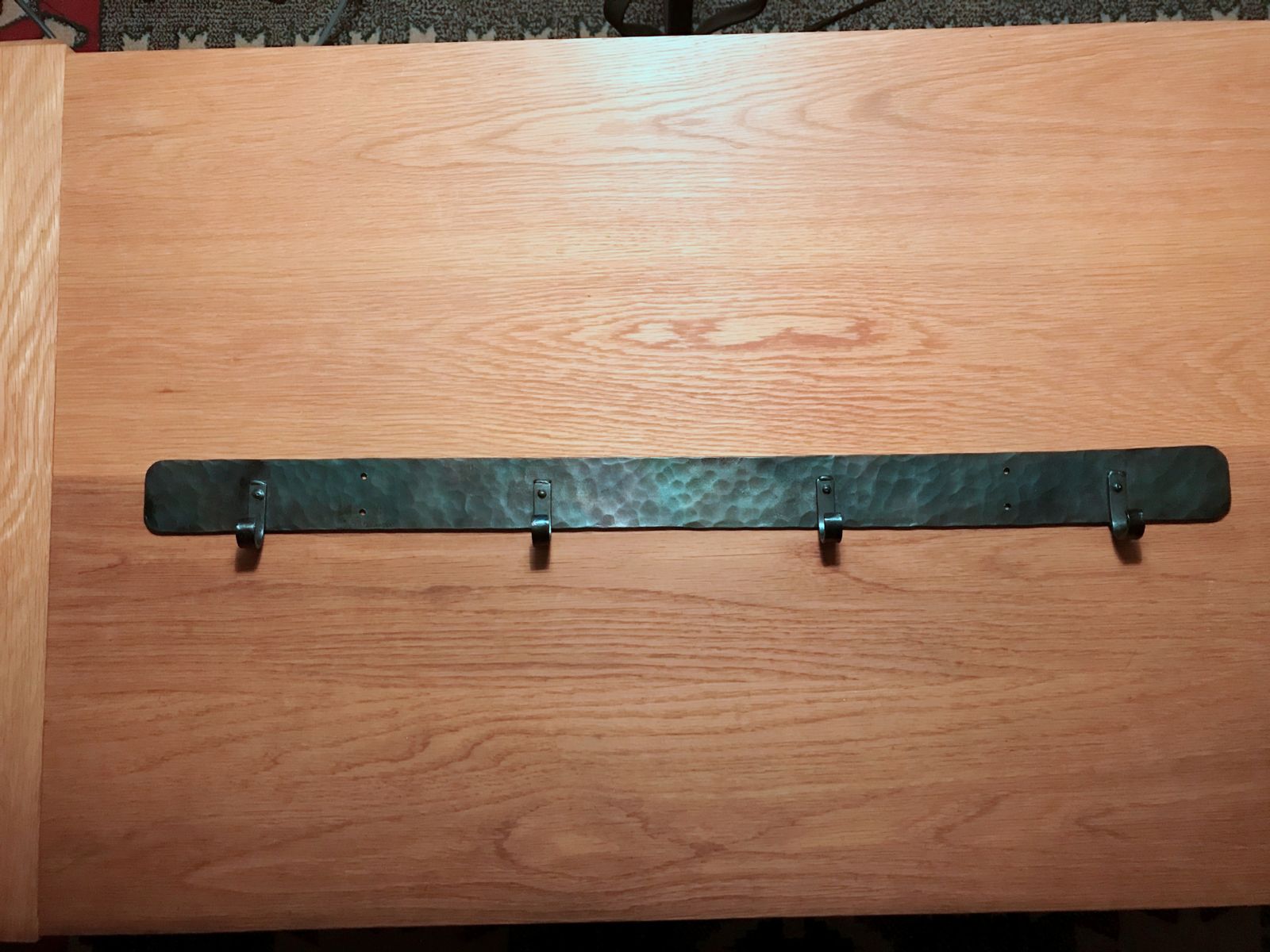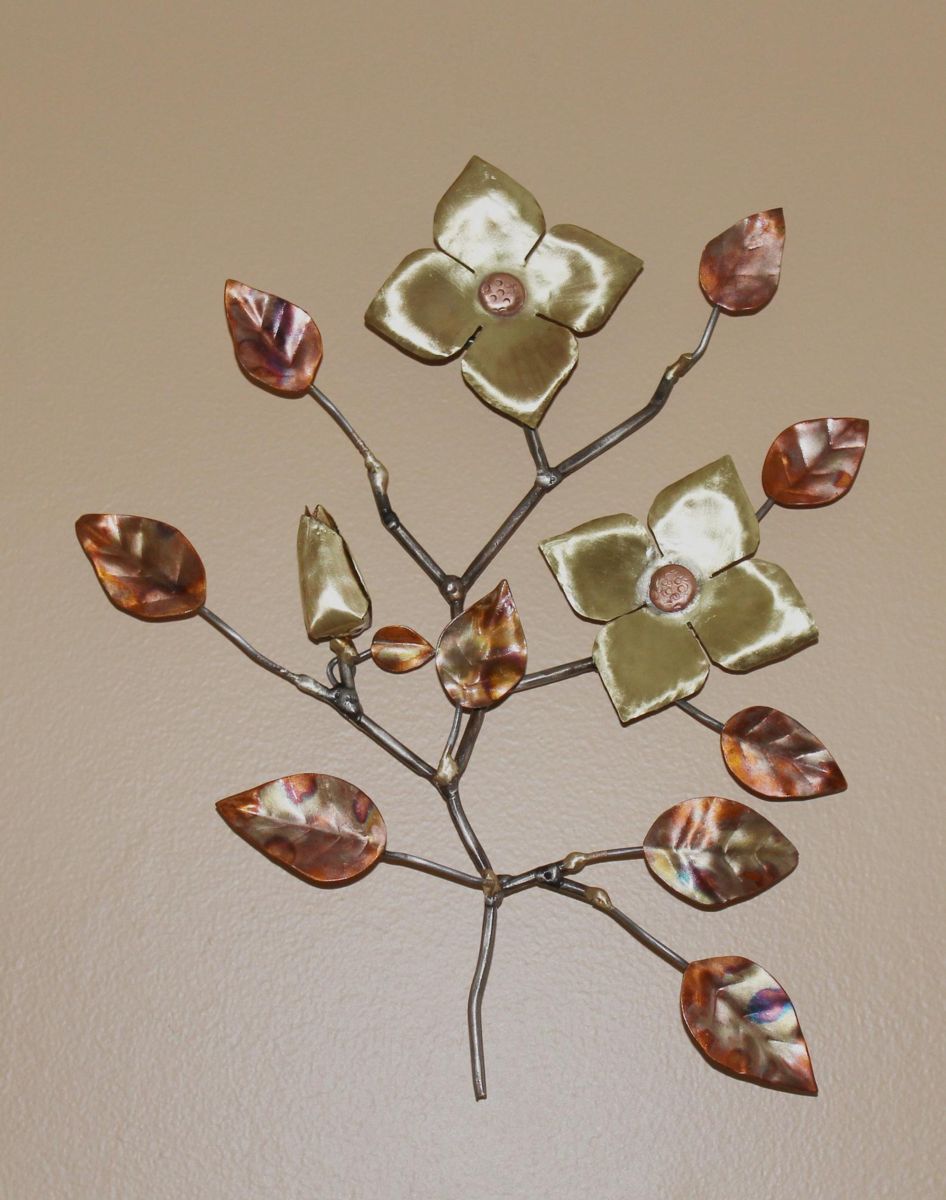 Steel Side Table $189, 20.75H x 13W x 13D". A small, weighty, very sturdy side table. Top is solid ¼" steel. Finished with cold bluing process and a urethan finish.
Calla Lily $69.00, 16" tall x 3.5" x 3" deep at widest parts. Brush finished copper and brass, a perfect addition to any room or garden. It can be placed in a stand, a vase, or added to a potted plant to give that everlasting bloom. The copper adds a warm tone and the brass captures the light to add a ray of sunshine. The flower is finished with a light wax and will patina over time. It will hold the current coloring for longer indoors.
Steel Hook Rack $87.00 2" bar, 2 5/8"H (with hooks) x 30.5"W x 1.25"D (where hooks stick out). Finished with a cold bluing process and a very traditional blacksmith finish of beeswax.
Flowering Dogwood wall sculpture, $120, 10.5"H x 6"W x .5'D. Bring a bit of that outdoor feeling inside. Any small area of wall will make a great home for this piece of art. This piece was inspired by the dogwood tree in my front yard. Branches are forged mild steel, flowers are solid brass, and leaves are solid copper. Flowers are brush finished and leaves are colored naturally using flame. The piece is finished with a clear lacquer to retard tarnishing. There are 3 hooks on the back so you can position as you would like.
To purchase an item or receive more information contact Jill Opland at FreestoneForge@gmail.com
More items are available at our shop on www.etsy.com/shop/freestoneforge
Follow us on Instagram @FreestoneForge and Facebook: /FreestoneForge
Tour Location: