Artist Profile
Pamela Vitale Art
Medium: Wood / Furniture, Ceramic / Sculpture, Painting / Drawing
Description: Bright color combined with dark textured motion and abstract energy
Pamela Vitale Art
Medium: Wood / Furniture, Ceramic / Sculpture, Painting / Drawing
Description: Bright color combined with dark textured motion and abstract energy
Quick Way Around - experimental and soundscape video art from pamelaVITALE on Vimeo.
VIDEO: To see "Quick Way Around - experimental and soundscape video art" CLICK HERE
Brightly colored, combined with the deep dark, textured motion, abstract energy
coming together in a few different mediums for an immersive experience
Mini Portrait of a Man, Oil
2x4" $125 SOLD

The Old Oak Tree 2020
15x16" Ink Pencil
BoxFramed $650
Ice Queen 2020
15x16" Ink Pencil
Framed $450
Lunar Basecamp 12x12"
Mixed Media on Canvas
Canvas Prints $250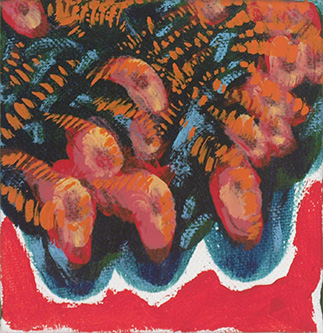 Digital Finger Tips Tiny Fish
Oils
4x4x1.5" $250

It's about passion and expression. I don't do this because I have to. I do it because it's what I've always done. Artwork, an expression in any medium or another spills out of me relentlessly. It's always been this way since I was a child. A gift or a curse from the universe, and sometimes I think the results are like a child I gave birth to. The artwork takes on a life of its own and interacts with people with their reflections, expression, and causes an impact. I'm just doing my job by letting them come out of me, giving birth to them, and then letting them go.
Ancient Passages. Sometimes nature sends you gifts or messages or shows you ways to portals into another universe. These are things I've been obsessed with it all my life, and I feel it plays a huge role in the how or why of my work. In the end, it's always about having fun and stretching the boundaries as far as I can.
My drawings, painting, photography, and video artwork play a critical role in my personal survival. No matter what or where I am in life, it's constantly morphing and evolving but comes from the root of the flow, memories, dreams, and reflections into the past, present, and future. I am a time traveler, a creative mystic, a wandering mistral, and an urban anthropologist plain and simple.
Transformed by Nature. Sometimes nature transforms us and offers a way to find cleansing and freedom from the noise and modern detritus. Allowing us to meld into the primal goo and become what we once were and still are; the energy of the universe. Color and light combined with imagination and sheer energy, it's as simple as taking a trip to the mountains or your backyard or a greenhouse or a park or the moon.
An instance in Time. To arrive at that moment of something that has never been created or seen before. That randomness that is existence shown thru in a chosen medium that no one has ever witnessed. Art has a way of capturing moments, like a screenshot of video or of liquid or body movement, allow you to see those powerful instances in time that take shape in ways one could only imagine possible. As if by a sculptor's hands, I present these experiences.
#buylocalart
If you are interested in any of the art shown on this blog or if you would like to see more,
be on my newsletter or if want a private studio/gallery viewing, contact me at pamela@xyeye.com
Desert Mountains,
Oil on canvas 2x3" 2020 $200
Part Garden Party
14x18" Oil on Canvas 2020 $250

To contact Pamela, email: pamela@xyeye.com or Telephone: 917-676-1568
See more artwork for purchase at SaatchiArt: www.saatchiart.com/pamelavitale
or on Instagram @pamelavitale
| | |
| --- | --- |
| | |
| 3 Box Pieces, Oil on canvas | Feathered Jungle 2020 4x4x1.5ft Oils $250 |
Tour Location:
Email: pamela@xyeye.com