Artist Profile
Sandy Welch Art
Medium: Painting with acrylics and markers
Description: Vibrantly colored abstract paintings and fun impressionistic images
Sandy Welch Art
Medium: Painting with acrylics and markers
Description: Vibrantly colored abstract paintings and fun impressionistic images
My paintings will absolutely fill you with joy and happiness.
Could be a Joan Mitchell looking abstract with lots of great energy or
aybe even a sun drenched beach with lots of people ...
OR, how bout a big bouquet of gorgeous flowers...
RECENT WORKS by Sandy Welch
To ENLARGE images below, RIGHT CLICK to Open In a New Window

Fresh Cut, 30x30"
| | | |
| --- | --- | --- |
| | | |
| French Turquoise 30x40" | Dream Whip 36x36" | Garden by the Sea 30x40" |
Wonderland, acrylic &
marker on canvas 36x48"
Fleur
Acrylic on canvas 48x48"
Beach #2 Acrylic
on canvas 30x40"
Pink Twist
18x24" Acrylic on paper

To see more of artwork, go to www.sandywelch.com (Prices range from $300 on paper to $2000)
For information, purchase, pickup/delivery/shipping, contact Sandy at welcho@comcast.net or at 860-521-5410
About Face, Acrylic
on canvas 36x48"
Shinning Star RBG
Acrylic on canvas 18x18"
Pink Rubber Gloves, 24x24", Acrylic on Wrapped Canvas
Taking a Break, 30x40"
wrapped canvas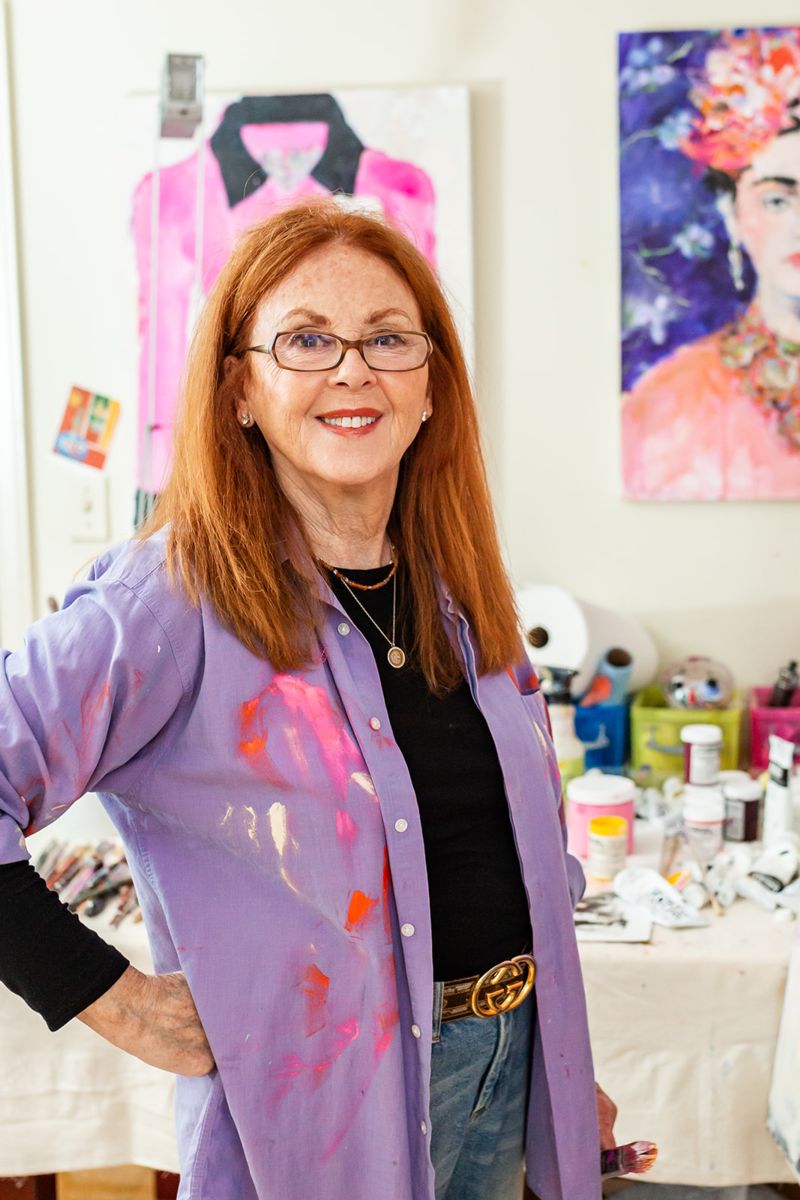 Sandy is the consummate artist. Using vibrant palettes of vivid hues,her work embodies a fresh, feminine, and passionate perspective. Whatever she does, she does it colorfully! Sandy consistently endeavors to capture the essence of her subjects, be it the pose of a fashionista, a lively beach scene, a coquettish shoe or a inquisitive Lamb. Along with a representational approach , Sandy's push and turn toward abstraction and non-figurative renderings signals an evolving signature style;the themes and provocative palette have remained constant, but she has embraced a new manner of expressing them. With energetic mark makings and gestural flourishes of delight , she manages to keep her artistic voice fresh and full of ephemeral elements of enthusiasm and liveliness. Painting is her pulse and many of herpaintings POP with provocative color and flirtatious style.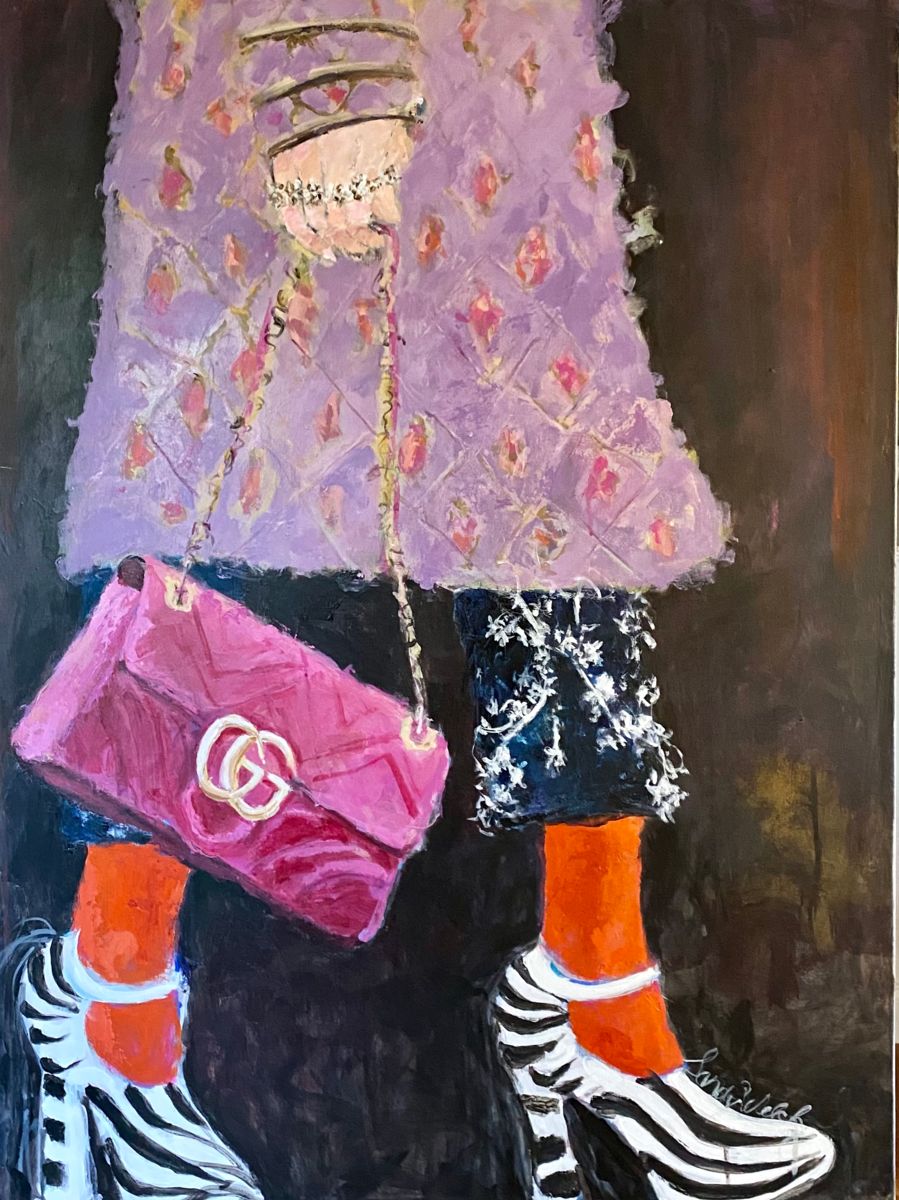 Gucci, Choochi, Goo
30x40" acrylic on canvas
andy looks to and through all her daily experiences as sources of inspiration. Painting, gardening, decorating ,and currently working as a free-lance make-up artist for Chanel allow her to be creative. Festivity and joy are the foundation of Sandy"swork , ones which she celebrates not only with each viewer, but also with her furry critics and studio mates, Tootsie her dog and his cat cousin Maurice Matisse.
Sandy's work has graced various galleries and art consortiums, including the Fisher Gallery at the Farmington Valley Arts Center, Chase Gallery at the Jewish Community Center, West Hartford Art League, Asylum Hill Congregational Church, Hartford Stage, Real Art Ways, On Twenty and the New Britain Museum of American Art. She was the featured artist for the English Room's Artist Spotlight . Sandy has been featured in the Hartford Courant, West Hartford Public Television, Farmington Valley Arts Center Connections, and has appeared as Artist magazine's featured artist. The Hartford Courant featured her "Cakes on Canvas" praising her whimsical cake series, while the New England Home Magazine displayed her vibrant beach series.
Allow Your Dreams to Blossom 12x12"
Acrylic on Wrapped Canvas

Autumn in New York 36x36"
Acrylic on Wrapped Canvas

With Love xx 12x12"
Acrylic on Wrapped Canvas
"Painting is not just a hobby , it is vital to my life. Summer is my mirror and fashion is my muse. My palette is filled with the delicious colors of summer. The reaction to my work is joy and happiness. I wouldn't want it any other way. I'm excited and inspired by the welcoming world that surrounds me, an island's hydrangea, a stretch of sand and beach umbrellas, a fashionable figure and, yes, all kinds of animals.This is how I choose to create my life and my art."
"I dream my paintings, then I paint my dreams" Van Gogh
White Roses, 24x30"
acrylic ..very Van Gogh-ish
My July 30x40"
Acrylic on canvas
Sunrise, Sunset 36x48"
Acrylic & Marker on canvas


To see more of artwork, go to www.sandywelch.com
For information, purchase, pickup/delivery/shipping, contact Sandy at welcho@comcast.net or at 860-521-5410
Instagram sandywelchart - Facebook SandyWelchArt, and on Fine Art America and Saatchi
Red Suspenders 24x30"
Acrylic on wrapped canvas
Blah, Blah, Blah 36x36"
acrylic on canvas
Sweetness, 24x30"
acrylic commission
Stand Tall and Follow
Your Dreams, All separate portraits
Tour Location: