Artist Profile
Thomas McCabe
Medium: Painting / Drawing
Description: Fun paintings inspired by years of working as a cook/chef in restaurants
Thomas McCabe
Medium: Painting / Drawing
Description: Fun paintings inspired by years of working as a cook/chef in restaurants
Fun paintings of animals, people & food inspired by years of working as a cook/chef at Hartford-area restaurants.
RIGHT CLICK images below to ENLARGE by Opening in New Window
| | | | |
| --- | --- | --- | --- |
| | | | |
| Newington Revisited 16x20" | Tomato Quad | Pizza Beach | |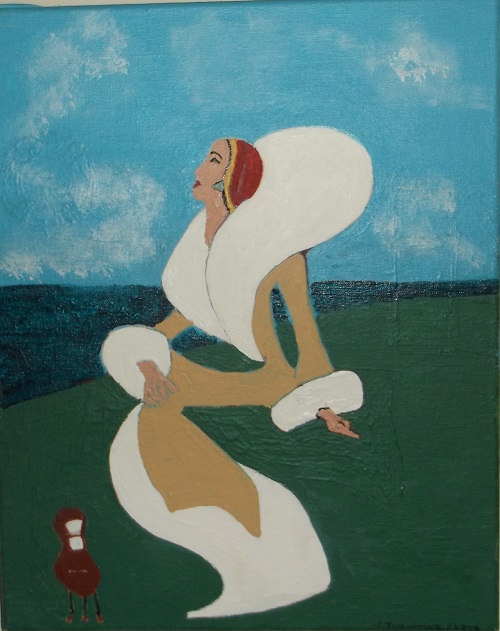 Art Deco-20th Century Woman
9 x12" (contact the artist)
Ever since I was in elementary school, I have enjoyed creating different forms of artwork. Most of my paintings contain animals, people or food, and it is hoped that their fun outlook will bring a smile to the viewer's face. During the 1990s, I produced a comic strip named "Urban Street Guitarist," that ran in several newspapers, but I stopped producing it, because painting was something that I wanted to focus on. Funny thing, many of my paintings maintain somewhat of a cartoonish slant. Artistic influences include Henri Matisse, "Archie" comics, Norman Rockwell, "Mad" magazine, Roy Lichtenstein, Jerry Seinfeld, Salvador Dali and Disney comics.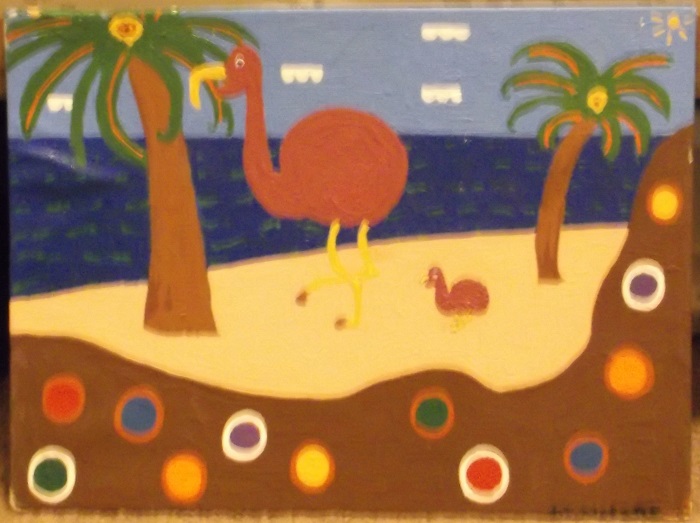 On Gumball Beach
For sales and information,
contact the artist at thomasmccabeart@gmail.com
or 860-233-2193
To view some of the artist's old paintings and comic strips, go to www.stepfour.com/sturnpike
Click Here to read Tom's blog described as Jelly Donuts In Hartford, Connecticut: Antenna TV Network, Food, Acrylic Paintings,
King of Queens and Seinfeld Fan Blog (www.jellydonutsinhartfordconnecticut.blogspot.com)

| | | |
| --- | --- | --- |
| | | |
| Tree Full of Frogs | Cafe Lete | Diner a' la Plage |
| | | |
| --- | --- | --- |
| | | |
| In The Neighborhood | Pancake People | Red Tunnel of Love |
| | | |
| --- | --- | --- |
| | | |
| Birdland II | Blue, Blue Highway | Woman and Dog on Brown Couch |
For sales and information, contact the artist at thomasmccabeart@gmail.com or 860-233-2193
To view some of the artist's old paintings and comic strips, go to www.stepfour.com/sturnpike
Click Here to read Tom's blog described as Jelly Donuts In Hartford, Connecticut: Antenna TV Network, Food,
Acrylic Paintings, King of Queens and Seinfeld Fan Blog (www.jellydonutsinhartfordconnecticut.blogspot.com)
Tour Location: